Winter  School Times  and  Spaces  of  Globalization
"Knowledges at Risk"
18-22 February 2019, Padova
The  2019  edition  of  the  Winter  School 'Times  and  Spaces  of  Globalization' addresses  the  many challenges to knowledge development and dissemination in times of crises, conflict, globalization and digital transformations. Particular attention is paid on higher education institutions, on their role and responsibilities, as  well  as on the  initiatives  they  can  activate  to  protect and  support students  and researchers in their activities.
Organized  in  collaboration  with  the  University  of  Trento and Scholars at Risk international network, this intensive course addresses the many issues emerging from  global  dynamics  that  are  putting  at  risk – or  promise  to  transform  profoundly  and  in unexpected directions – the very existence of academic knowledge, the roles and activities of higher education institutions, the lives and experiences of scholars and students.
The Winter School particularly welcomes PhD students from non-European regions, and from low income countries and countries in democratic transition, who want to master their understanding of current challenges to the implementation of democratic principles, in times where separation and marginalisation are the everyday experience of walled politics. 4 Scholarships are available for students from such areas.
Deadline for applications: 16th December 2018
Further information: www.spgi.unipd.it/didattica/winter-summer-schools-20172018/times-and-spaces-globalization
Graz International Summer School Seggau 2019
"RADICAL (DIS)ENGAGEMENT: STATE-SOCIETY- RELIGION"
30 June-13 July 2019 – Seggau Castle | Leibnitz | Austria
The Graz International Summer School Seggau is designed for internationally oriented, highly motivated students from all disciplines, who wish to deepen their understanding of current European and international affairs by studying and discussing global developments and challenges within the context of transformation processes and demographic change reflecting aspects of individual, social, political, religious, cultural, literary, regional, economic, cohort and national identities.
7 GOOD REASONS TO APPLY:
2-week summer university with a unique campus atmosphere at Seggau Castle
6 ECTS credits (for participation and seminar paper)
Lectures, panel discussions and 7 parallel seminar modules (small groups)
Discussions and networking opportunities with international lecturers and guests
All-inclusive package (tuition, meals, accommodation, extra-curricular program and excursion to Graz)
Developing skills in public speaking, academic writing, creative writing and critical thinking
Publishing opportunity in Off Campus: Seggau School of Thought publication series
Deadline for applications: 18 March 2019
Further information: https://international.uni-graz.at/en/stud/int-focus/summerschools/gusegg-summerschool/
Winter School on Adult Education and Lifelong Learning in Würzburg
4-15 February 2019, Julius-Maximilian-University Würzburg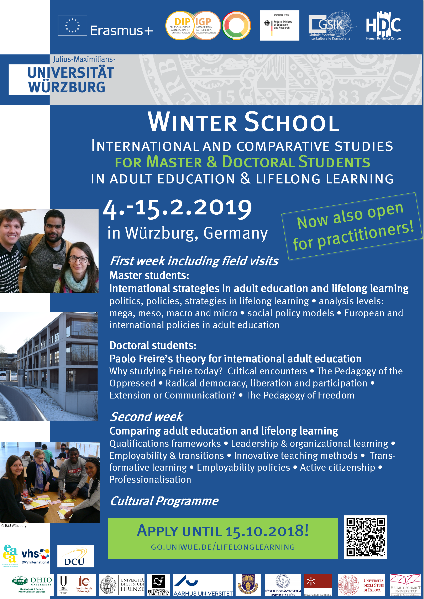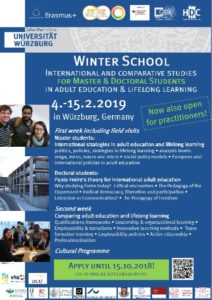 From 4-15 February 2019 the Winter School "International & comparative studies in adult education & lifelong learning" will take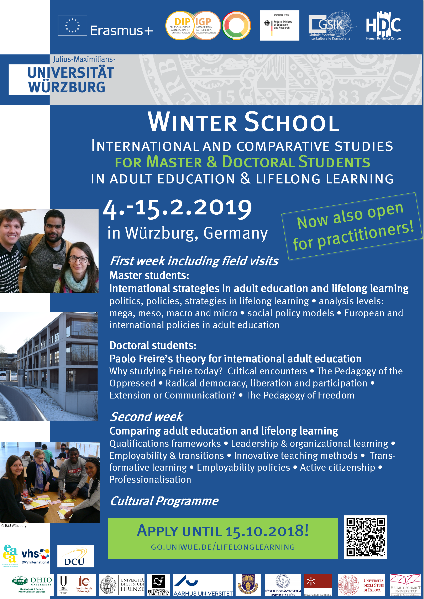 place at the Julius-Maximilian-University Würzburg, Germany. The Winter School is geared to master's and doctoral students and is divided into a two-week programme. The Winter School is part of a blended-learning activity with a preparatory and a subsequent online phase. During the first week, there will be two separate study pathways: one for MA and one for PhD students.
MA students focus on questions of international policies in adult education and lifelong learning. PhD students will focus on theories in adult education and lifelong learning.
Practitioners in adult education (e.g. adult and continuing education trainers, adult education programme planners, adult education project managers) who are affiliated with the European Association for the Education of Adults (EAEA) and with DVV International are invited to participate in the Winter School.
During the second week, MA students, PhD students and practitioners will work together in comparative groups on selected topics in adult education and lifelong learning. The groups will come with a policy-perspective (MA students), a theory-perspective (PhD students) and a practice-perspective (practitioners) in small groups of 6-10 participants.
Deadline for applications: 15 October 2018
Further information is available here: go.uniwue.de/lifelonglearning
Coimbra Group International Summer School on European Multilingualism
7-14 July 2018, Faculty of Philosophy, University of Novi Sad
Novi Sad – European Youth Capital 2019 and European Capital of Culture 2021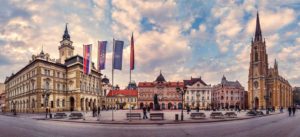 The Coimbra Group and the Faculty of Philosophy at the University of Novi Sad (Serbia) are delighted to invite you to take part in the International Summer School on European Multilingualism that will take place at the University of Novi Sad (Serbia) from 7 to 14 July 2018.
With the support of the  Erasmus+ KA107 programme, teachers from the following Coimbra Group universities – University of Bologna, University of Granada, University of Salamanca,  University of Graz and the University of Poitiers (project coordinator), will propose, in collaboration with the teachers from the University of Novi Sad, an intensive short programme on European Multilingualism and Cultural Mediation Studies, with the aim to share innovative approaches to teaching and learning languages.
The intensive short programme offers courses in translation and language application in several small tandem groups: German-Serbian, French-Serbian, Italian-Serbian, Spanish-Serbian.
The Summer School teaching programme proposes also the Language Discovering Workshop allowing all participants to learn about the Less Widely Used and Lesser Taught languages (LWULT) and their important role in keeping language diversity and the world's multilingual heritage. Two LWULT Workshops are offered: Hebrew and Modern Greek.
The International Summer School on European Multilingualism is a great opportunity to discover the very dynamic city of Novi Sad and its cultural assets. As European Youth Capital 2019 and European Capital of Culture 2021, the city of Novi Sad, with its multicultural heritage, becomes an attractive place to start intercultural dialogue and to share the history and values from this part of Europe.
One of the most exciting cultural events taking place in Novi Sad is the Exit Festival, which is the laureate of the 2018 Best European Festival Award. The Exit Festival – https://www.exitfest.org/sr (12-16 July 2018) is proposed as cultural programme of the International Summer School on European Multilingualism.
The international Summer School will be awarded 3 ECTS.
Who can apply?
– Students from Serbian and Western Balkans Universities, students from Coimbra Group Universities
What are the student's levels?
– Students from the three cycles (Bachelor, Master and PhD) with a level B (B1 or B2) in one of the proposed European languages
Which are the fields of studies?
– Languages, Cultural studies, Humanities
How to apply?
Registration form: to be filled out before 15 June 2018 and to be sent to the University of Novi Sad: International Office of the Faculty of Philosophy: international@ff.uns.ac.rs
Tuition Fees: Intensive Short programme, welcome and farewell parties: 100 €
Payment terms: For more information, please contact the International Office of the Faculty of Philosophy: international@ff.uns.ac.rs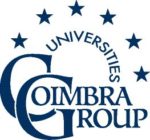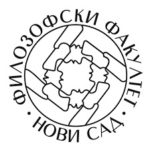 Summer School in Algebra and Topology
12-15 September 2018, Université catholique de Louvain
Within the project "Attractivité internationale et collaborations de recherche dans le cadre du Coimbra Group" the Université catholique de Louvain organizes a Summer school in algebra and in topology: www.uclouvain.be/irmp-summerschool
The speakers will be professors Maria Manuel Clementino (http://www.mat.uc.pt/~mmc, University of Coimbra), Alberto Facchini (http://www.math.unipd.it/~facchini/, University of Padova) and Tim Van der Linden (Université catholique de Louvain, https://perso.uclouvain.be/tim.vanderlinden/). These mathematicians are internationally well known for their scientific contributions in topology, algebra and category theory, respectively.
The mini-courses will be addressed to Master and PhD students, and will also be of interest for more experienced researchers in these fields. There is a limited funding to partially cover the local expenses for students (deadline: 30 April 2018).
The programme will consist in three mini-courses:
Maria Manuel Clementino – Topological algebras
Alberto Facchini – Commutative monoids, noncommutative rings and modules
Tim Van der Linden –  Non-associative algebras
This event is part of a joint project of the Université catholique de Louvain with the universities of Coimbra, Padova and Poitiers, promoting the research collaborations within the Coimbra Group. The project is funded by the UCL for the period January 2018-December 2020.