Latin America
Working Group
Chair: Soledad Garcia Ferrari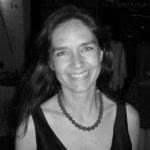 Dr Soledad Garcia Ferrari is a Senior Lecturer at ESALA University of Edinburgh. Professionally qualified in Architecture and Urbanism in Uruguay, her research focuses on current processes of urban development and regeneration in Latin America and Europe. She was awarded her PhD in Urban Studies in 2007 at the School of the Built Environment Heriot-Watt University. Soledad has extensive expertise on research in recent planning strategies in Medellin and is currently leading Medellin Urban Innovation project awarded by British Council. She taught in the Faculty of Architecture in Montevideo, the University of Seville and was invited speaker to the School of Architecture, CEU in Madrid. She is currently University of Edinburgh Dean Latin America and Director of Edinburgh University Centre for Contemporary Latin American Studies.
Vice-Chair: Marta Kania
PhD Marta Kania, representative of the Jagiellonian University in Cracow, Poland.Graduate of archaeology and cultural studies at the Jagiellonian University. Ph.D. thesis defended at the Faculty of History of the Jagiellonian University. Since 2008 employed as assistant professor in the Department of Latin America in the Institute of American Studies and Polish Diaspora at the Jagiellonian University in Kraków. Visiting Fellow and Visiting Lecturer at the Instituto de Estudios Peruanos (Peru); Pontificia Universidad Católica del Perú (Peru); Universidad Nacional San Antonio Abad del Cusco (Peru); Centro de Investigaciones sobre América Latina y el Caribe, Universidad Nacional Autónoma de México (Mexico), Academia de Humanismo Cristiano (Chile), Universidad Nacional San Andres (Bolivia), Universidad Santiago de Compostela (Spain). Her academic interests and research topics are ethno-politics and history of Latin America; nationalism and national identity in Hispanoamerica; political, legal and social aspects of protection, safeguarding and promotion of culture heritage; religious diversity and religious syncretism process in Hispanoamerica. Author of books and articles about relations between cultural heritage and political practice in Latin America (particularly in Peru and Mexico); political and social status of indigenous peoples, and religious diversity in Latin America. Participant of international conferences and symposiums related to Latin America history, culture politics, heritage studies, religious diversity and human rights.
Focus of Working Group
The Latin America Working Group aims to promote a space for interaction between Latin American Universities and Universities in the Coimbra Group, through which to ensure collaborative action takes place. Research, policy development and exchange should be rooted in understanding local and national priorities as well as strengths and benefits of collaboration in both regions, in order to implement long-term partnership. One of our key priorities has been to reinforce and develop cooperation with networks in Latin America, such as UDUAL, AUGM and CGBU, with an approach that is based on developing trust through activities promoting knowledge exchange and research opportunities.
These include: research round tables, leading to joint research proposals; jointly developed capacity building programmes around themes of mutual interest; mobility and exchange opportunities; as well as joint activities aimed to generate interaction at postgraduate level. The challenges provided by the current Covid- 19 pandemic, have slowed process and actions on some fronts, however, the LAWG has remained active with online meetings and concentrated efforts towards a specific selection of activities.
Recent highlights
Early in 2020, the LAWG submitted a joint proposal to ERASMUS+ KA2 Cooperation for Innovation and the exchange of good practices: Capacity Building in the field of Higher Education. The project, titled INCAS, Instruments to Connect Academia to Society, was coordinated by Università degli Studi di Pavia. Although this proposal was not successful, it has contributed to an ongoing collaboration with AUGM in the identification of concrete joint proposals for exchange, such as seminars, research-focused events and virtual participation in courses through the "Virtual Teaching Fellowship" proposal developed with the University of Cuyo in Argentina
(see further details below).
The collaboration with AUGM has progressed over the past year through a number of meetings and workshops. University of Pavia is leading the organisation of a small number of activities related with the INCAS proposal to be implemented in the forthcoming months.
A review of research interests across the group is being carried out together with a database with information from each member academic institution. Over the next few months, the group will complete the data collection and carry out an analysis of opportunities for collaboration around the strengths of the partner universities.
Ongoing/forthcoming activities
A proposal for collaboration has been developed with University of Cuyo in Argentina, based on call to lecturers to participate in a collaboration and exchange programme around teaching activities, that will contribute to the internationalisation of the participating University's curriculums. The objective is to generate knowledge exchange and global interaction through curriculum internationalisation within a structured collaboration programme that allows the exchange of teaching practice in the design, delivery, practical work and evaluation of course material. This proposal is currently under review for implementation in 2021-22.
The LAWG has continued collaboration around thematic clusters identified over the past year, as areas of common interest for developing research, knowledge exchange and mobility projects. Around these, we are finalising the review of a joint publication which showcases perspectives around Why Latin America matters?', which are the result of academic research and knowledge led by members of the LAWG and associated partners. The region is often not viewed as a priority, in terms of major world challenges, such as climate change, environmental risk, migration or conflict resolution, and it risks becoming a blind spot in these global debates. Specific attention in this publication is given to Covid-19 challenges, which have had an incremental impact on regional problematics such as social and economic inequalities, access to basic services, exposure to environmental risks, etc. The proposed publication received nearly 30 essay submissions, which were reviewed by a small editorial committee and the selected papers are undergoing final revisions. The LAWG expects to complete the publication by our meeting in June 2021.
The LAWG has worked on the development of a new edition of the Be_a_Doc programme led by Coimbra University, aimed to open up the existing platform to a wider number of participants in Brazil and beyond in Latin America.
The LAWG will continue to explore the development of a Scholarship Programme for Latin America (in cooperation with other CG WGs), the aim is for a successful exchange programme, offering opportunities to exchange ideas with researchers from Latin American universities, beyond those institutions that are usually involved in collaboration. This work is exploring the conceptualisation and planning of open and inclusive mobility opportunities with the following principles:

Broader collaboration programmes that offer a wide range of opportunities whilst remaining sustainable in light of current challenges.
Better monitoring mechanisms listening to and proactively responding to student and staff feedback.
Diversification of mobility options to include short and long-term mobility programmes for a range of activities, from field trips and summer volunteering to semester internships, PGR, PhD researcher mobility and full year study abroad. Exploring virtual mobility as an opportunity. Increase access, enhance inclusion and support for disadvantaged groups.
Contact person at the CG Office: Catarina Moleiro (moleiro@coimbra-group.eu)