Latin America
Working Group
Chair: Soledad Garcia Ferrari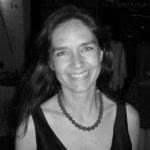 Dr Soledad Garcia Ferrari is a Senior Lecturer at ESALA University of Edinburgh. Professionally qualified in Architecture and Urbanism in Uruguay, her research focuses on current processes of urban development and regeneration in Latin America and Europe. She was awarded her PhD in Urban Studies in 2007 at the School of the Built Environment Heriot-Watt University. Soledad has extensive expertise on research in recent planning strategies in Medellin and is currently leading Medellin Urban Innovation project awarded by British Council. She taught in the Faculty of Architecture in Montevideo, the University of Seville and was invited speaker to the School of Architecture, CEU in Madrid. She is currently University of Edinburgh Dean Latin America and Director of Edinburgh University Centre for Contemporary Latin American Studies.
Vice-Chair: Marta Kania
PhD Marta Kania, representative of the Jagiellonian University in Cracow, Poland.Graduate of archaeology and cultural studies at the Jagiellonian University. Ph.D. thesis defended at the Faculty of History of the Jagiellonian University. Since 2008 employed as assistant professor in the Department of Latin America in the Institute of American Studies and Polish Diaspora at the Jagiellonian University in Kraków. Visiting Fellow and Visiting Lecturer at the Instituto de Estudios Peruanos (Peru); Pontificia Universidad Católica del Perú (Peru); Universidad Nacional San Antonio Abad del Cusco (Peru); Centro de Investigaciones sobre América Latina y el Caribe, Universidad Nacional Autónoma de México (Mexico), Academia de Humanismo Cristiano (Chile), Universidad Nacional San Andres (Bolivia), Universidad Santiago de Compostela (Spain). Her academic interests and research topics are ethno-politics and history of Latin America; nationalism and national identity in Hispanoamerica; political, legal and social aspects of protection, safeguarding and promotion of culture heritage; religious diversity and religious syncretism process in Hispanoamerica. Author of books and articles about relations between cultural heritage and political practice in Latin America (particularly in Peru and Mexico); political and social status of indigenous peoples, and religious diversity in Latin America. Participant of international conferences and symposiums related to Latin America history, culture politics, heritage studies, religious diversity and human rights.
Focus of Working Group 
The Latin America Working Group aims to promote a space for interaction between Latin American Universities and Universities in the Coimbra Group, through which to ensure collaborative action takes place. Research, policy development and exchange should be rooted in understanding local and national priorities as well as strengths and benefits of collaboration in both regions, in order to implement long-term partnership. One of our key priorities has been to reinforce and develop cooperation with networks in Latin America, such as UDUAL, AUGM and CGBU, with an approach that is based on developing trust through activities promoting knowledge exchange and research opportunities. These include: research round tables, leading to joint research proposals; jointly developed capacity building programmes around themes of mutual interest; mobility and exchange opportunities; as well as joint activities aimed to generate interaction at postgraduate level.
Recent highlights
LAWG met at the University of Siena in November 2019, where the group engaged in forum discussions with academics and students around 'Human rights and migration in Latin America'. The seminar explored the role of governments, civil society and academic institutions in sharing knowledge and implementing change. A more positive discourse on migration was also explored, focusing on the potential as well as the vulnerability of migrants. Human rights is viewed from the perspective of the most vulnerable, seeking for forms of empowerment with knowledge and participatory approaches to decision making. Particularly relevant are the social, environmental and political influences to quality of life of vulnerable communities in Latin America, understanding that the potential effects of climate change as well as political and economic instability. This work is and exchange is contributing to a current publication led by LAWG members.
LAWG and AUGM organised a joint event in September 2019, hosted by the University of Turku. This activity was aimed to reflecting over our current collaboration as well as past and planned activities to strengthening the partnership as it develops. It led to the preparation of a joint proposal to EU-ERASMUS+ programme and has led to further collaboration in the organisation of a joint 'virtual course', 'catedra virtual'  to be developed during 2020-2021.
A CG-AUGM Joint Event for Junior Researchers, sharing research around 'sustainability' took place in May 2019 hosted by Universidade Federal do Rio Grande do Sul, Porto Alegre. This was an successful event, setting the pathway for collaboration across the two networks. Themes discussed included the interlink between environmental, social and economic sustainability; governance and sustainable development; sustainable infrastructure; agriculture; ethics; among others.
The LAWG and UDUAL met in March 2018 to identify themes of common interest and develop a programme for research collaboration that is expected to benefit Universities in both networks. Members of the LAWG have continued interaction with UDUAL with the aim of strengthening research themes. Within this collaboration LAWG has agreed with UDUAL the participation on an international Accreditation programme, led by UDUAL following a long process of development and providing academic institutions across Latin America with quality assurance and enhancement reviews. Members of the LAWG will be invited to this process as international expert advisors.
Of significant success has been the CG-AUGM Summer School on 'Smart and Inclusive Cities', which took place in July 2018 in Edinburgh, the result of a collaborative approach between the two networks from planning, to development and delivery of the school. A second edition was planned for 2020 but will not take place due to Covid-19 restrictions.
The LAWG meeting in Köln counted with the participation from a representative of European Commission's Directorate-General for Research and Innovation, which contributed to showcase the work of CG and the LAWG in engaging with Latin America and the importance of ensuring that academics are involved, as well as government officials, in decision-making regarding challenges and priorities for research and innovation in the region.
Ongoing/forthcoming activities
The LAWG has continued collaboration around thematic clusters identified over the past year, as areas of common interest for developing research, knowledge exchange and mobility projects. Around these, we are organising a joint publication which showcases perspectives around 'Why Latin America matters?', which are the result of academic research and knowledge led by members of the LAWG and associated partners.  The region is often not viewed as a priority, in terms of major world challenges, such as climate change, environmental risk, migration or conflict resolution, and it risks becoming a blind spot in these global debates. Specific attention in this publication is given to Covid-19 challenges, which have had an incremental impact on regional problematics such as social and economic inequalities, access to basic services, exposure to environmental risks, etc.
The LAWG has launched of a new edition of the Be_a_Doc programme in cooperation with GCUB.
The LAWG will explore the development of a Scholarship Programme for Latin America (in cooperation with other CG WGs), the aim is for a successful exchange programme, offering opportunities to exchange ideas with researchers from Latin American universities, beyond those institutions that are usually involved in collaboration.
Contact person at the CG Office: Catarina Moleiro (moleiro@coimbra-group.eu)