LAWG at 5th LAC-EU Permanent Academic Forum
12 July 2023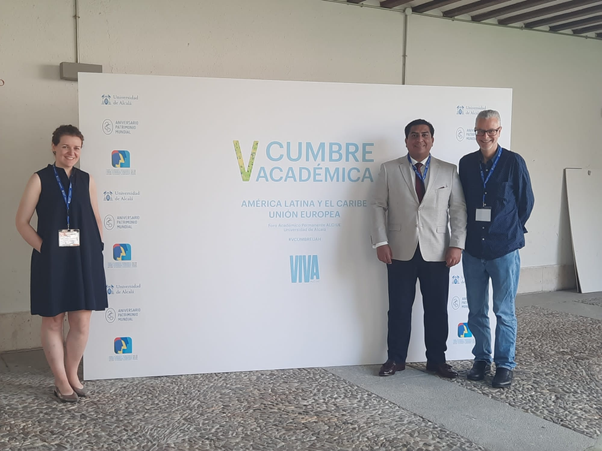 From 6-8 July, representatives from the Latin America Working Group (LAWG) participated at the 5th LAC-EU Permanent Academic Forum (FAP-ALC-UE) hosted by the Universidad de Alcalá (UAH) in Spain. The delegation consisted of the Chair of LAWG Mara Constantinescu (University of Leiden), M. Cristina Sanz (University of Barcelona) and Hans Egil Offerdal (University of Bergen).
The forum focused on a range of themes, such as the shared challenges for Latin America, the Caribbean and Europe with respect to climate change, economy, and democracy. A rectors' roundtable explored challenges and opportunities around the creation of a common space for higher education, science, technology, and innovation. A session on the role of universities in promoting a culture of peace included valuable reflections from the former Director-General of UNESCO, Federico Mayor.
From LAWG, Mara Constantinescu contributed with a presentation titled: "Development: the role of education in present and future EU-LAC relations", where she challenged the dominant concept of development and argued that universities must create just and inclusive 'knowledge spaces', while never forgetting the commitment of universities to serve the needs of marginalised sectors of society. Academia should always have a community outlook, and universities in Europe have much to learn from Latin America, she stated.
During the days of the meetings, LAWG representatives held bilateral meetings and conversations with various actors attending the event, such as with representatives from the Institute of European Studies and Human Rights at the Pontifical University of Salamanca (UPSA), and the Latin American Caribbean Centre at The University of the West Indies.