Social Sciences & Humanities
Working Group
Chair: Pekka Räsänen
Pekka Räsänen is Professor of Economic Sociology at the University of Turku, Finland. He was appointed in 2009. Previously, he has been affiliated e.g. at the Helsinki Institute for Information Technology (HIIT) of the University of Helsinki, Center for Knowledge and Innovation Research (CKIR) of Helsinki School of Economics, and Sociology unit of the University of Turku. Professor Räsänen has studied a variety of consumption and lifestyle related phenomena from a multidisciplinary perspective for 20 years. He has published over 70 articles in international refereed journals and over 200 other publications. He has been Coimbra SSH representative of the University of Turku since 2017.
Vice Chair: Brigitte Burrichter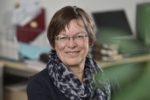 Brigitte Burrichter is Professor of French and Italian Literature at the University of Würzburg, Gemany since 2016. Previously, she has been affiliated at the University of Konstanz. Her main interests are in Medieval and Renaissance Studies but she works also on other periods. Her publications are about French and Italian authors of the Medieval and Renaissance periods an about contemporary French literature.
Focus of Working Group

Research: The Coimbra Group SSH Working Group is determined to strengthen and promote the research possibilities of the member universities. First,  joint preparation of research proposals for Horizon 2020. Second, organizing conferences on interdisciplinary research projects within Coimbra universities. These events also act as information sessions regarding upcoming funding calls.
Education: Reflecting on the role of discipline-based education vs. interdisciplinary education. Monitoring the situation at Coimbra Group universities and sharing best practices in SSH. Possible areas of collaboration may well be at the interfaces of SSH disciplines and STEM, digital editing and the interface of humanities with psychological and cognitive sciences.
Outreach: Lobbying for the position of SSH (together with the EB) to attract public attention to the importance and usefulness of SSH. This means influencing policy makers but also academic communities.  Collaboration with other organisations and networks with similar purpose, such as EASSH (European Alliance for the social sciences and humanities).
Recent highlights
Research:
Several multidisciplinary conferences preceded by meetings of the Working Group (Turku 2016 on interdisciplinarity, Dublin 2017 Crisis discourse in Europe, Åbo 2018 Interfacing Minorities: Creative Hybridity and Unexpected Environments) related to social and human challenges in the world of today + ensuing scientific publications
Active sounding of EU research funding instruments (Horizon 2020, Erasmus, Cost)
Outreach:
Several informative debates with representatives of European institutions (Brussels, March 2016) and associations about the adequate place of the humanities in EU frame and other programmes (Dublin, March 2017 and Brussels October 2017)
Joint position papers by EB and other instances
Current/forthcoming activities
Continued efforts to increase the understanding of the relevance of the SSH disciplines for knowledge production in the European research context
Symposium "Curiosity and Commitment: Cultural/Social Sciences and the Transformation of European Universities" 18-19.10 2018, University of Graz
From 2018 on, focus on getting to know better the interests and activities of the members of the Working Group and their institutions, beneficiary both for research and cooperation in the field of education between the member universities
Contact person at the CG Office: Anna Quici (quici@coimbra-group.eu)