Social Sciences & Humanities
Working Group
Chair: Pekka Räsänen
Pekka Räsänen is Professor of Economic Sociology at the University of Turku, Finland. He was appointed in 2009. Previously, he has been affiliated e.g. at the Helsinki Institute for Information Technology (HIIT) of the University of Helsinki, Center for Knowledge and Innovation Research (CKIR) of Helsinki School of Economics, and Sociology unit of the University of Turku. Professor Räsänen has studied a variety of consumption and lifestyle related phenomena from a multidisciplinary perspective for 20 years. He has published over 70 articles in international refereed journals and over 200 other publications. He has been Coimbra SSH representative of the University of Turku since 2017.
Vice Chair: Brigitte Burrichter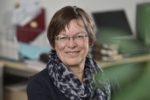 Brigitte Burrichter is Professor of French and Italian Literature at the University of Würzburg, Gemany since 2016. Previously, she has been affiliated at the University of Konstanz. Her main interests are in Medieval and Renaissance Studies but she works also on other periods. Her publications are about French and Italian authors of the Medieval and Renaissance periods an about contemporary French literature.
Focus of Working Group

The Coimbra Social Sciences and Humanities (SSH) Working Group (WG) aims to strengthen and promote the research possibilities of the member universities. WG will organize seminars and conferences on implications for multidisciplinary SSH research projects within Coimbra universities. New digitized data, current demographic and cultural trends in Europe, and increased research possibilities for the SSH will be in key focus. On the basis of seminars and conferences, WG is hoping to prepare successful research proposals for the Horizon 2020 and beyond, and find success in other appropriate international funding calls. Multidisciplinary requirements of the EU calls have previously been found problematic among SSH scholars. WG will pay attention to this issue by stressing a multidisciplinary research orientation and collaborative nature of the SSH. The WG will focus on the tasks and activities related to 1) research, 2) education and employability, and 3) outreach and visibility.
Recent highlights
Focus on getting to know better the interests and activities of the members of the WG and their institutions, beneficiary both for research and cooperation in the field of education between the member universities.
Symposium "Curiosity and Commitment: Cultural/Social Sciences and the Transformation of European Universities" 18-19.10.2018, University of Graz, Austria
Interdisciplinary conference "Machine Learning applications in the Social Sciences and the Humanities", 17.-18.10. 2019, Würzburg, Germany.
Current/forthcoming activities
Interdisciplinary conference on Migration and Borders will be organized at the University of Gottingen, late 2020/early 2021.
High-quality publications/proceedings from the previous Coimbra SSH conferences.
We have prepared and informational one-pager about Coimbra SSH WG for internal use by the member universities. This document will be circulated among member universities in 2020.
Work on funding proposals, in connection to meetings and conferences, as well as on increasing teacher mobility between Coimbra member universities.
Organizing future conferences in 2021/2022 on Digital Data and Machine Learning, as well as on the changing role of SSH in general.
Contact person at the CG Office: Anna Quici (quici@coimbra-group.eu)