Social Sciences & Humanities
Working Group
Chair: Pekka Räsänen
Pekka Räsänen is Professor of Economic Sociology at the University of Turku, Finland. He was appointed in 2009. Previously, he has been affiliated e.g. at the Helsinki Institute for Information Technology (HIIT) of the University of Helsinki, Center for Knowledge and Innovation Research (CKIR) of Helsinki School of Economics, and Sociology unit of the University of Turku. Professor Räsänen has studied a variety of consumption and lifestyle related phenomena from a multidisciplinary perspective for 20 years. He has published over 70 articles in international refereed journals and over 200 other publications. He has been Coimbra SSH representative of the University of Turku since 2017.
Vice Chair: Brigitte Burrichter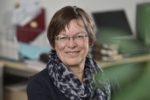 Brigitte Burrichter is Professor of French and Italian Literature at the University of Würzburg, Gemany since 2016. Previously, she has been affiliated at the University of Konstanz. Her main interests are in Medieval and Renaissance Studies but she works also on other periods. Her publications are about French and Italian authors of the Medieval and Renaissance periods an about contemporary French literature.
Focus of Working Group

During the next years, the Coimbra Social Sciences and Humanities (SSH) Working Group (WG) will continue focusing on tasks and activities related to research, education and employability, and also outreach and visibility. However, the primary focus will be in supporting SSH research possibilities of the member universities.
The WG continues to strengthen and promote the research possibilities of the member universities. First, WG will organize seminars and conferences on implications for multidisciplinary SSH research projects within Coimbra universities. New data and increased research possibilities will also be in key focus. What is noteworthy here is that a third research theme, in addition to the migration and digitalization and machine learning, will be visible in SSH activities in 2022–2025. This theme connects to sustainable development/environmental issues and it will partly incorporate with the two existing ones. Each of these three themes pays attention to the consequences of the Covid-19 pandemic.
Second, based on seminars and conferences, WG is hoping to prepare successful research proposals for the EU Horizon and beyond, and other appropriate international funding calls. Multidisciplinary requirements of the EU calls have previously been found problematic among SSH scholars. Therefore, WG will focus on this issue by stressing a multidisciplinary research orientation and collaborative nature of the SSH.
We would like to note that during the Covid-19 pandemic, organization of many of our main activities, especially physical research meetings and workshops, has suffered. During this time, however, we have discussed about the relevant modifications for future activities.
Priorities for 2022-2025
The general aim of the SSH WG will be getting back to "new normal". There has been preliminary discussion on next three-year plan in our fall 2021 and spring 2022 meetings.
Following the success of the SSH "Walls, Laws and Migrations" workshop organized as an open online workshop in 2021, a follow-up meetings will be organized.
As an important longer term goal, WG will look into general themes and specific calls in which SSH research of the Coimbra Universities might find success. Prior work on funding proposals has been conducted, in connection to meetings and conferences. Learning from the past research applications will be essential here.
Possible future conferences on funding issues, migration, sustainable development and multi-disciplinarity, as well as on the changing role of SSH in general.
Stressing the role of SSH for doctoral education, especially for the existing doctoral schools. Being more active with other Coimbra representatives at the home universities.
Recent highlights
SSH WG has successfully organized meetings regularly online (Zoom/GoToMeeting). In 2021, we had three meetings and in 2022 one meeting.
In 2021, the SSH WG prepared a one-pager to be used internally at the member universities.
We also created a list of large Covid-19 research projects in order to find synergy between Coimbra SSH member institutions.
Organization of SSH "Walls, Laws and Migrations" workshop organized as an open online workshop in May, 2021.
Virtual presentation of the new United Nation's (UN) Library platform, which took take place in April, 2022.
Ongoing/forthcoming activities
Following the approach adopted earlier, the SSH WG's working plan will be organized around the WG meetings (the spring meetings in Brussels and the fall meetings in connection to a specific SSH workshop/conference), which are supplemented by the annual Coimbra Group General Assembly meetings. The hosts for the fall WG meetings for years 2022–2025 have not been decided yet.
Getting back to "the new normal" by starting regular hybrid meetings (combining physical and online meeting formats)
A follow-up workshop for "Walls, Laws and Migrations" conference will take place in September/October 2022, focus will connected to the significance of SSH when examining the situation in Ukraine
Building a smaller team of the motivated SSH representatives who would look into specific EU Horizon call opening in late 2022/early 2023.
Also other relevant funding sources will be examined for both research and other forms of collaboration.
A follow-up actions on the one-pager and the creation of large-scale SSH projects at the member universities; the efficient use these documents locally and across institutions.

Contact person at the CG Office: Benjamín Martínez Sanchis (martinez@coimbra-group.eu)