Life Sciences
Working Group
Chair: Pierre-Antoine Bonnet

Pierre-Antoine Bonnet PharmD, PhD is Professor in Pharmaceutical Chemistry at Montpellier University and coordinates the research group Pharmacochemistry & Biomolecules, Faculty of Pharmacy, F16 Pharmacotoxicology team, IBMM, UMR CNRS 5247. He is author of 80 scientific papers and several patents in oncopharmacochemistry and manages a Master Programme in Medicinal and Health Products Sciences. He acted for 15 years as Scientific Director at the French Health Products Safety Agency, Control Laboratory Department. He is full member of the French National Academy of Pharmacy. Within the Coimbra Group, he is Representative of Montpellier Universities and member of the LSWG since 2016 and was elected as Chair in March 2018.
Vice-Chair: Aloïs Palmetshofer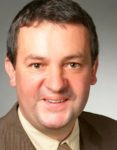 Alois Palmetshofer, Priv.-Doz. Dr., is coordinator BioCareers at the University of Würzburg and is active in teaching, study program development, student support and quality management. He was habilitated in Pathobiochemistry and Cell Biology, and is author of 30 scientific papers in the biomedical field. Since 2013, he has been chair of the German Conference of Biological Faculties. Since the initiation of of the Coimbra Group Life Sciences, he has been active as vice chair.
Focus of Working Group
CG LSWG main objectives:
Raise young people´s interest in life sciences research
Develop strategies to promote scientific vocations
Further develop vividly active networks in the bioscience research area
Increase networking activities in relation to H2020 program
Facilitate mutual exchange of students and teachers, share teaching and training activities, technologies, equipment and infrastructure all to boost the quality and competitiveness of bioscientific education and training within the CG network
Further develop and harmonize educational systems to attract and keep high potential bioscientists with differing educational background at Degree, Master, Doctoral levels, and beyond
Exchange and train bioscience students and professionals for awareness and responsibility for bioethical issues including potential adverse effects, harm or misuse of knowledge or technologies arising from novel insights and developments in the Life Sciences
Develop actions of scientific dissemination
Communicate science-oriented education and training policies
Recent highlights 
Master programs are considered of utmost importance for high level education and development of skills for future high level bioscientists as well the initial step for the development of bioscience research and the promotion of vocations in the bioscience area. Further to a Capacity Building Project, three master program projects have been identified of common interest and three major fields to focus on for common efforts: Biomedical Engineering, Infection Biology, Cancer Biology.
Current/forthcoming activities
A major objective of the Biomedical Engineering Master program is to introduce students to an interdisciplinary approach to Biomedical Science, based on technologies and skills from a wide spectrum of scientific, engineering and health sciences disciplines and interdisciplinary compatibilities. The program is oriented to introduce students to Biosciences and Engineering disciplines that have not been covered in their bachelor studies and to facilitate interactions with some of the leading researchers in Life Sciences area.
Contact person at the CG Office: Catarina Moleiro (moleiro@coimbra-group.eu)