Life Sciences
Working Group
Chair: Aloïs Palmetshofer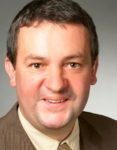 Alois Palmetshofer, Priv.-Doz. Dr., is the coordinator of BioCareers at the University of Würzburg and is active in teaching, study program development, student support and quality management. He was habilitated in Pathobiochemistry and Cell Biology and is the author of 30 scientific papers in the biomedical field. Since 2013, he has been Chair of the German Conference of Biological Faculties. Since the initiation of the Coimbra Group Life Sciences, he has been active as Vice Chair of the group. In November 2022, he got elected as Chair.
Vice-Chair: Pierre-Antoine Bonnet
Pierre-Antoine Bonnet, PharmD, PhD, is Professor in Pharmaceutical Chemistry at Montpellier University and coordinates the research group Pharmacochemistry & Biomolecules, Faculty of Pharmacy, F16 Pharmacotoxicology team, IBMM, UMR CNRS 5247. He is the author of 80 scientific papers and several patents in oncopharmacochemistry and manages a Master's Programme in Medicinal and Health Products Sciences. Pierre-Antoine acted for 15 years as Scientific Director at the French Health Products Safety Agency, Control Laboratory Department. He is a full member of the French National Academy of Pharmacy. Within the Coimbra Group, he has been a representative of Montpellier Universities and a member of the LS WG since 2016. In 2018-2022, he acted as a Chair of the group, and since November 2022, he has been appointed a Vice Chair.
Focus of Working Group
Proposed actions aim at increasing the excellence and competitiveness of our Universities in the context of the Life Sciences, considering the whole field of academic engagement, i.e., teaching, research and transfer, all understood in their widest context. The focus of the WG is clearly oriented towards the development of common strategies of teaching and research. Master programmes are considered of utmost importance for high level education and development of skills for future high level bioscientists as well the initial step for the development of bioscience research and the promotion of vocations in the bioscience area. Several Master programme projects have been identified of common interest.
Priorities for 2023-2026
Master Cancer Biology
Master Infection Biology
Master Heritable Disease
Master Global Change Ecology
Bioethical Issues
Blended Intensive Programmes and Student's Mobility
Recent highlights
European Joint Degree project
BIPs (Blended Intensive Programmes)
Ongoing / Forthcoming activities
Coordination: Prof. Maria Sacristán, as responsible in the University of Salamanca of the Master's Degree in Cancer Biology and Clinic (msacristan@usal.es) and Prof. Xosé Bustelo, Cancer Institute in Salamanca (xbustelo@usal.es).
The universities of Åbo Akademi, Barcelona, Coimbra, Köln, Montpellier, Pavia, Salamanca, Tartu, Turku, Utrecht, Vilnius and Würzburg are involved. Information on courses that are open for incoming students have been collected and are online on the CG website. More than160 research teams offer internships to Master students within the Coimbra Group network.
Priorities are now to enhance visbility of the programme in order to enhance the number of students, faciltate and increase the exchange of students within the LS WG participating Universities. The plan for next years is (1) to extend and intensify activities including an "Open Conference" to students before start of the semester and (2) to offer common lecture series to students in selected topics of Cancer Biology. This will also give research group leaders the opportunity to promote internships in their groups.
Coordination: Mauld Lamarque, University of Montpellier (mauld.lamarque@umontpellier.fr).
Information on the Master programmes (see here) as well as other formats that may contribute to the Coimbra Group certificate have been collected from several universities. Starting as a close cooperation between the Universities of Montpellier and Würzburg, the programme will be extended to more participating universities and more informations about ongoing teaching and research activities will be offered. As for the Cancer Biology Master programme, priority is to enhance visibility of the programme to stimulate exchanges within participating Universities.
A similar programme following the organisation scheme of Cancer Biology is intended to be coordinated and promoted by Lino Ometto, Pavia.
Master Global Change Ecology
This programme will be coordinated by the University of Würzburg and will focus on topics in Ecology, climate change, nature conservation and sustainability.
Student's Mobility – Blended Intensive Programmes (BIP)
In order to foster discussions and exchange activities of working groups at the Coimbra Group universities, Marta Camps organized a meeting on BIPs at the university of Barcelona on 24-25 November 2022. There, a total of nine proposals for BIPs was presented and discussed. Several topics presented will be submitted as grant proposals to start in 2024/2025.
BIPs on Environmental Remote Sensing, Stem Cells and Gene Editing and Redox Biology in Health and Diseases are supported by the University of Barcelona and should be granted, as well as Liposomes to improve Pharmacological Treatments of Infectious and Cancer Diseases supported by University of Salamanca. Another BIP was been discussed by the Universities of Montpellier and Würzburg on Modern Methods in Infection Biology.
Online Conferences
Online lecture series will be organized relating to topics of the BIPs and / or the coordinated Master´s programmes.
2023 – 2024
Links between Coimbra Group Master programmes and the European Joint Degree project launched by DG EAC. First active year of the EJD programme MAD4CANCER.
Organisation of Blended Intensive Programmes.
2024 – 2026
Continuing development of the Master Projects focusing on Cancer and Infection Biology and other topics.
Blended Intensive Programmes (BIPs) in selected biological and biomedical fields.
Annual Meetings to present and exchange topics of the BIPs.
Life Sciences Conferences in coordination with BIPs.
Joint webinar on Bioethical issues
Contact person at the CG Office: Catarina Moleiro (moleiro@coimbra-group.eu)