Life Sciences
Working Group
Chair: Pierre-Antoine Bonnet

Pierre-Antoine Bonnet PharmD, PhD is Professor in Pharmaceutical Chemistry at Montpellier University and coordinates the research group Pharmacochemistry & Biomolecules, Faculty of Pharmacy, F16 Pharmacotoxicology team, IBMM, UMR CNRS 5247. He is author of 80 scientific papers and several patents in oncopharmacochemistry and manages a Master Programme in Medicinal and Health Products Sciences. He acted for 15 years as Scientific Director at the French Health Products Safety Agency, Control Laboratory Department. He is full member of the French National Academy of Pharmacy. Within the Coimbra Group, he is Representative of Montpellier Universities and member of the LSWG since 2016 and was elected as Chair in March 2018.
Vice-Chair: Aloïs Palmetshofer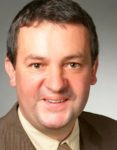 Alois Palmetshofer, Priv.-Doz. Dr., is coordinator BioCareers at the University of Würzburg and is active in teaching, study program development, student support and quality management. He was habilitated in Pathobiochemistry and Cell Biology, and is author of 30 scientific papers in the biomedical field. Since 2013, he has been chair of the German Conference of Biological Faculties. Since the initiation of of the Coimbra Group Life Sciences, he has been active as vice chair.
Focus of Working Group
Proposed actions aim at increasing the excellence and competitiveness of our Universities in the context of the Life Sciences, considering the whole field of academic engagement, i.e., teaching, research and transfer, all understood in their widest context. The focus of the WG is clearly oriented towards the development of common strategies of teaching and research. Master programs are considered of utmost importance for high level education and development of skills for future high level bioscientists as well the initial step for the development of bioscience research and the promotion of vocations in the bioscience area. Several master program projects have been identified of common interest and three major fields to focus on for common efforts including Cancer Biology, Infection Biology and Biomedical Engineering. In order to harmonize the entry level to the master programs, practical research training courses would be helpful.
Recent highlights 
Coimbra Group Cancer Biology: Project coordinated by the University of Salamanca: The universities of Montpellier (France), Barcelona (Spain), Koln (Cologne, Germany), Wurzburg (Germany), Turku and Abo Akademi (Finland), Vilnius (Lithuania), Coimbra, Pavia, Tartu and Salamanca (Spain) are involved.
Coimbra Group Infection Biology: Project coordinated by the University of Montpellier. The universities of Montpellier, Göttingen, Barcelona, Vilius, Salamanca and Würzburg are involved.
Study programs have been collected and compared in order to improve the visibility of courses for exchange students at partner universities. The harmonization of Master programs in the Life Sciences are based on two major pillars: (i) the identification of complementary research efforts that may help to further focus student´s choice of topics, (ii) the better harmonization at the master entry level to further increase the overall quality and competitiveness within the master program platforms.
Aging: An open on-line summer school free of charge is planned at the end of august 2020 by the University of Cologne
Student's Research Internship's: A program for short duration internships for undergraduate students in Life Sciences is on discussion further to a proposal from students from the University of KU Leuven.
Ongoing activities
In scientific domains, i.e. Infection Biology, Cancer Biology and Biomedical Engineering, CG LSWG members agree to intensify efforts to identify and match powerful research teams who are working on the same or complementary issues in order to facilitate cooperation between them and the establishment of competitive projects susceptible to funding from the H2020 Program. This will also provide a richer training of our students, mainly at the Master's and Doctoral levels via actions aimed at enhancing mobility among research teams of excellence.
A pre-master training program should be established, as both master entry qualification and the duration of master programs vary among the universities (even within Europe) especially with regard to experimental laboratory based training. Courses may be offered at different universities and include both general laboratory training and an experimental project.
Online lectures intend to exchange and further develop common CG identity. These and other efforts will be undertaken to increase CG visibility within the universities. A lecture series on Mechanisms of Human Disease/Aging might be anticipated under the coordination of the University of Köln.
Further to the proposal from KU Leuven Life Sciences Undergraduate students, next step is how to improve the organisation to facilitate the student's access to such kind of internships. The project will be further discussed during the next WG meetings.
Contact person at the CG Office: Catarina Moleiro (moleiro@coimbra-group.eu )