Life Sciences
Working Group
Chair: Aloïs Palmetshofer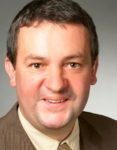 Alois Palmetshofer, Priv.-Doz. Dr., is the coordinator of BioCareers at the University of Würzburg and is active in teaching, study program development, student support and quality management. He was habilitated in Pathobiochemistry and Cell Biology and is the author of 30 scientific papers in the biomedical field. Since 2013, he has been Chair of the German Conference of Biological Faculties. Since the initiation of the Coimbra Group Life Sciences, he has been active as Vice Chair of the group. In November 2022, he got elected as Chair.
Vice-Chair: Pierre-Antoine Bonnet
Pierre-Antoine Bonnet, PharmD, PhD, is Professor in Pharmaceutical Chemistry at Montpellier University and coordinates the research group Pharmacochemistry & Biomolecules, Faculty of Pharmacy, F16 Pharmacotoxicology team, IBMM, UMR CNRS 5247. He is the author of 80 scientific papers and several patents in oncopharmacochemistry and manages a Master's Programme in Medicinal and Health Products Sciences. Pierre-Antoine acted for 15 years as Scientific Director at the French Health Products Safety Agency, Control Laboratory Department. He is a full member of the French National Academy of Pharmacy. Within the Coimbra Group, he has been a representative of Montpellier Universities and a member of the LS WG since 2016. In 2018-2022, he acted as a Chair of the group, and since November 2022, he has been appointed a Vice Chair.
Focus of Working Group
Proposed actions aim at increasing the excellence and competitiveness of our Universities in the context of the Life Sciences, considering the whole field of academic engagement, i.e., teaching, research and transfer, all understood in their widest context. The focus of the WG is clearly oriented towards the development of common strategies of teaching and research. Master programs are considered of utmost importance for high level education and development of skills for future high level bioscientists as well the initial step for the development of bioscience research and the promotion of vocations in the bioscience area. Several master program projects have been identified of common interest.
Priorities for 2022-2025
Master Cancer Biology
Master Infection Biology
Master Heritable Disease
Bioethical Issues
Student's Mobility
Recent highlights
Student's Mobility: Pallas Athena Project proposed by KU Leuven Students.
European Joint Degree project.
BIPs (Blended Intensive Programs) in the new Erasmus Programme.
Ongoing activities
Coimbra Group Life Sciences Working Group has launched the Virtual Conferences Cycle for the academic year 2022/2023. Participation is free of charge. All sessions will be delivered live through an online conference tool.
The Conference Cycle session topics and schedule (more to come in 2023):
Speaker: Simon Galas, Montpellier
Date: October 7, 2022, 13h00
The Afterlife of a Tree: Biodiversity and Functions of Deadwood in Forests
Speaker: Jörg Müller, Würzburg
Date: December 2, 2022, 13h00
Hide and Seek: Host Evasion of Protozoan Parasites
Speaker: Christian Janzen, Würzburg
Date: January 20, 2023, 13h00
Microbiota-Gut-Brain Axis and its Role to Psychiatric Disorders
Speaker: Aurelijus Burokas, Vilnius
Date: February 3, 2023, 13h00
Coordination: Prof. Maria Sacristán, as responsible in the University of Salamanca of the Master's Degree in Cancer Biology and Clinic (msacristan@usal.es) and Prof. Xosé Bustelo, Cancer Institute in Salamanca (xbustelo@usal.es)
The universities of Abo Akademi, Barcelona, Coimbra, Koln, Montpellier, Pavia, Salamanca, Tartu, Turku, Utrecht, Vilnius and Wurzburg are involved. Informations on courses that are open for incoming students have been collected and are online at the CGMLS page. More than160 research teams offer internships to master students within the Coimbra Group network.
Priorities are now to enhance visibility of the program in order to enhance the number of students, facilitate and increase the exchange of students within the WG LS participating Universities. The plan for next years is (1) to extend and intensify activities including an "Open Conference" to students before start of the semester and (2) to offer common lecture series to students in selected topics of Cancer Biology. This will give research group leaders good opportunities to promote internship opportunities.
Coordination: Catherine-Braun Breton, Montpellier.
Information on the master programs (links to programs) as well as other formats that may contribute to the CGMLS certificate have been collected from several universities but are however still not complete. So far, 6 universities have expressed to be interested in the program and the information provided have been published at the LSWG internet page. To develop the program to become successful, more participating universities and more information about ongoing teaching and research activities are required and should be provided on the next years. As for the Cancer Biology Master program, priority is to enhance visibility of the program to stimulate exchanges within participating Universities.
Info Session on Infection Biology
A similar program to Cancer Biology and Infection Biology is intended to be coordinated and promoted by Lino Ometto, Pavia.
According to the efforts of the students from KU Leuven, students close to the end of their bachelor phase or at master level should be encouraged to go for an internship at partnering universities. A proposal Research Exchange Programme called "Pallas Athena Programme" will be an interesting base for such prospect. Further exchanges are needed and will be implemented within the next months/years to define the weaknesses of the present systems, the needs depending on the type of education program and provide propositions to increase opportunities, set-up possible coordination and initiate a pilot project for further improvement for a long-term perspective.
Contact person at the CG Office: Catarina Moleiro (moleiro@coimbra-group.eu )