ICMED 2nd project meeting
20 May 2018
The second meeting of the ICMED Project took place at the beginning of this month hosted by the University of Granada.  "International Credit Mobility: a new challenge for the Mediterranean Region" is a project coordinated by the University of Padova and the consortium includes not only the Coimbra Group as a network but also our member universities of Bologna, Poitiers, Iaşi, and the host university, Granada.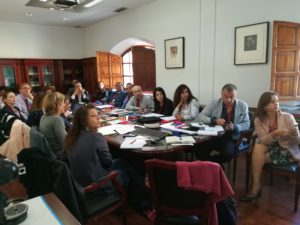 The initiative involves 2 Universities from each of the Mediterranean partner countries:
*Algeria (Sciences et Technologie d'Oran and Biskra),
*Morocco (Abdelmalek Essaadi, Tetouan and Hassan 1er, Settat),
*Tunisia (Gafsa and Monastir).
On the occasion of this meeting, and taking advantage of the big staff week taking place at the University of Granada, a dissemination event also took place to raise awareness of the project and its goals.
ICMED contributes to capacity building at the Partner countries' HEIs in the field of international relations, with a specific focus on E+ ICM, thus reinforcing EU-Partner cooperation in the region and improving the quality of mobility flows under KA107. More specifically, the project aims at strengthening staff capacity at Partner HEIs to deal with ICM & International Mobility in general, through the implementation of a comprehensive Training Programme to be held in the region. First, a Consultation Process has already been carried out to map the current status of ICM implementation at institutional and regional level. Based on its results, 4 training weeks, as well as a comprehensive International Mobility Toolkit, are being developed. A set of Policy Briefs addressing local authorities and the EC will also be prepared with the aim to contribute to the discussion on the future generation of ICM programmes through project inputs and recommendations. Outputs and results will be disseminated and multiplied during the Train-the-Trainers event and the Final Conference.
To find out more about this Erasmus+ Key Action 2 project (Capacity Building in Higher Education), please visit the website https://www.icmedproject.eu .