Erasmus+ & active citizenship
24 May 2018
The Coimbra Group was one of the guests at a panel discussion on 'Fostering Active Citizenship through Erasmus'. The event took place at the European Parliament on 23 May, organised by the Erasmus Student Network with the support of MEP Brando Benifei.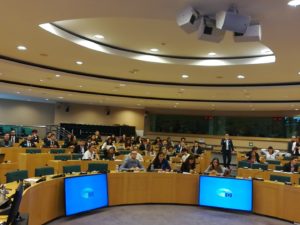 The initiative comes as a follow-up to a paper that ESN wrote together with several other organisations presenting the idea of providing opportunities for volunteers as an integral part of Erasmus+. The idea is to make information and opportunities for volunteering available to international students when they arrive at a new university. Through partnerships between universities, municipalities, and local civil society organisations, Erasmus students would be able to choose if they would like to volunteer in activities that put them in contact with the local community and also to have this exercise recognised.
ESN has been working on the idea with the European Parliament and has proposed a Pilot Project called 'Erasmus Local Volunteering' with the goal of increasing the number of Erasmus students engaged in voluntary activities at their host community. Several partners and stakeholders have supported the initiative
The Coimbra Group has shown support to the initiative as it fits in with the "Poitiers Declaration" objectives and initiatives that aim at fostering links between Universities and Municipalities for an active European Citizenship.
The CG plans to organise a Brussels workshop on the Poitiers Declaration together with the European Parliament in early 2019, where Rectors and Mayors would be invited to reflect together. We would also involve students to contribute to this initiative.