Coimbra Group and partners reaffirm strong commitment to university autonomy and academic freedom
28 September 2021
Coimbra Group Executive Board Chair Ludovic Thilly gathered with the leaders of other key European university networks (EUA, Europaeum, LERU, UNICA) and student networks (ESN, ESU), as well as Member of European Parliament Christian Ehler, in Prague on September 24, 2021. At the invitation of the Rector of Charles University, they examined together the role of universities and university networks in Europe in today's changing world. The meeting concluded with the signature of a common "Message from the Heart of Europe – Prague Declaration II" reaffirming the importance of cooperation, academic freedom and university autonomy, which stand as core values of the Coimbra Group's mission.
Five years after the first Prague Declaration and three years after the Prague Appeal, Tomáš Zima, Rector of Charles University, along with Ludovic Thilly, Coimbra Group EB Chair, Michael Murphy, President of the European University Association (EUA), Andrew Graham representing Europaeum's Board of Trustees, Karen Maex, Chair of the League of European Research Universities (LERU), and Luciano Saso, President of UNICA, acknowledge that their cooperation since then has "deepened and proved to be essential in many fields".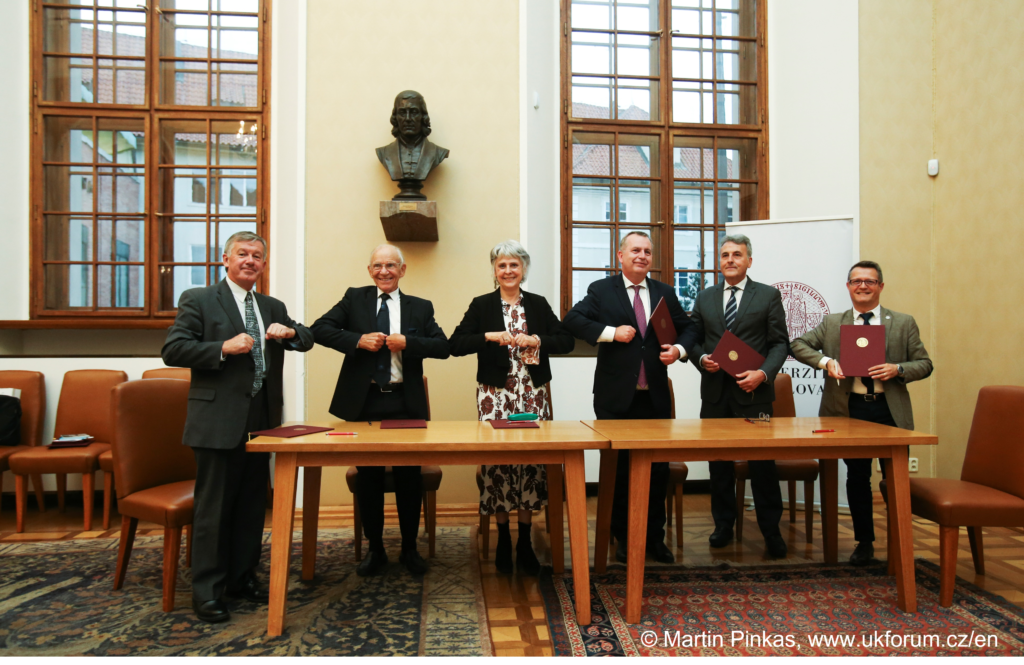 However, greatly concerned by the challenges facing universities in 2021, the leaders of university networks also firmly reiterate their joint commitment: "Research needs a free atmosphere guaranteed by the institutional autonomy of the universities, a truly free exchange of opinions and information and mutual respect. The close cooperation of scientists and truly international open science are essential for the solution of any crisis. We experienced that especially during the Covid crisis".
The meeting inspired a constructive debate on the threats to university autonomy and academic freedom in Europe and any concrete actions to be taken to protect them. The Coimbra Group warmly welcomes in this regard the determination of the European Parliament to make it a high priority of its legislative term in full consultation with all actors involved. We will make sure to engage Coimbra Group members in these crucial discussions.
As pointed out by EB Chair Ludovic Thilly in his address, "all the challenges are strongly intertwined and can only be addressed via a collegial dialogue between all stakeholders. In particular, long-established networks will continue to have an essential role to play in ensuring that Knowledge remains a common good, accessible to all".