The Coimbra Group has submitted a position paper in reply to the European Commission public consultation on the new Digital Education Action Plan.
This consultation was seeking to gather the views of citizens and stakeholders on their experiences and expectations during the COVID-19 crisis (both to-date and in the recovery period), as well as their visions for the future of digital education.
This paper is largely on the basis of our May report Practices at Coimbra Group Universities in response to the COVID-19 – A Collective Reflection on the Present and Future of Higher Education in Europe.
Coimbra Group Position Paper on Digital Education Plan
Ludovic Thilly and Jürgen Barkhoff, Chair and Vice-Chair of the Coimbra Group Executive Board
The agenda of the 2019-2020 academic year was always expected to be busy with the appointment of a new European Commission, the final discussion rounds and decisions on Erasmus+ and Horizon Europe programmes, the second call of the pilot phase for European Universities Alliances, the negotiations around the UK leaving the EU, among many other important topics and events. All these developments were expected to have an important impact on the European Higher Education, Research and Innovation landscapes, but nobody could have predicted the coronavirus pandemic and its grave consequences across the world and in Europe in particular.
The COVID-19 crisis already had severe impact on our societies, economies and access to education at all levels, including higher education, and will continue to do so for the foreseeable future. Within a few weeks, most (European) universities had to develop procedures to ensure business continuity in all their mission fields and the 2020-2021 academic year will unfortunately still be severely disrupted by the pandemics.
Nevertheless, universities in general, and Coimbra Group universities in particular, have demonstrated an incredible capacity of resilience and adaptation: such strengths allow us to remain optimistic about the future of European higher education and research systems despite all the challenges.
It is in this specific context that the Coimbra Group Executive Board selected the following strategic priorities for 2020-2021, after consultation with the Rectors Advisory Group (online meeting of 11 June 2020):
1) maintain Coimbra Group advocacy activities, in particular regarding
ambitious budgets for Erasmus+ and Horizon Europe programmes, and the recovery instrument "Next Generation EU";
the support to European Universities Alliances;
the renewal of European Education and Research Areas (EEA and ERA);
the synergies between higher education, research and innovation, which traditionally have always been the hallmark of Coimbra Group universities;
2) assist Coimbra Group universities in their management of the COVID-19 crisis on all fronts
3) strengthen Coimbra Group engagement with society
4) develop policies, tools and guidelines to limit the effects of BREXIT (with or without a deal).
The first series of priorities will translate into continued series of media campaigns in cooperation with other European university associations, participation to meetings at the European Commission and Parliament (and other stakeholders), and organisation of dedicated events, similar to the recent webinar on European Universities Alliances that gathered about 600 participants on 10 June 2020 (read more about this event here).
The second series of priorities will take its departure from the Coimbra Group study paper on Impact of COVID-19 on Higher Education and Research, published in May 2020 (see full report here) to share experiences and ideas, and define relevant practical and policy guidelines for Coimbra Group universities and the Higher Education system overall. After consultation with the Rectors Advisory Group, the Executive Board has also decided to launch a series of discussions with Working Groups to establish concrete activities in favour of Virtual Exchange (VE), thus strengthening the Coimbra Group also as a VE platform. The objective is not to replace physical mobility (which was sorely lacking during the COVID-19 crisis) but to promote complementary and blended mobility schemes to the academic community.
Engagement with society will continue through the continued promotion of the Poitiers Declaration and new series of events and policy debates on the Sustainable Development Goals (SDGs) promoted by the United Nations. In particular, the 2021 annual conference, hosted by Charles University in Prague in June 2021 will foster important debate on "Sustainable Universities in the 21st century" as the topic for its public conference.
Regarding BREXIT, the Coimbra Group will continue to follow the situation closely and will mobilize all its actors and resources: in particular, we are ready to support mobility with our UK members using our own network of 41 European universities and our own Student Exchange Network (SEN), created twenty years ago and recently revised by our Academic Exchange and Mobility Working Group.
It is obvious that these topics are intimately intertwined and the Executive Board members are looking forward to continuing working with all Coimbra Group actors in our well established collegial dialogue.
We wish you the best possible new academic year!
Professors Pilar Aranda Ramirez, Rosario Rizzuto, Cisca Wijmenga and Tomáš Zima, respectively Rectors of the Universities of Granada, Padova, Groningen and Charles University in Prague.
In autumn 2020, the European Commission will put forward a Communication on achieving the European Education Area by 2025. As part of the co-creation process of this Communication, we were pleased and honoured to be invited by Mariya Gabriel, European Commissioner for Innovation, Research, Culture, Education and Youth, to an online consultation meeting on 3 July on the higher education dimension of this Communication (see the background note of this meeting on the Coimbra Group intranet here – members only).
Commissioner Gabriel elaborated on several initiatives the European Commission is currently developing, such as the European degree, the European framework for Recognition and Quality Assurance and the European framework for micro-credentials. The importance of inclusion, physical mobility and face-to-face interactions was highlighted in the meeting as well as the necessity for strengthening synergies between the European Education Area and the European Research Area and for safeguarding a global perspective to higher education cooperation.
The coronavirus crisis required a swift switch to online education at Coimbra Group universities. We managed to arrange this almost overnight due to the high professional standards and dedication of our teaching staff and the availability, at our IT centres, of the infrastructure required to support online education. Coimbra Group universities are characterised by international and diverse university communities comprising over 100 nationalities with important proportions of international students and staff. Despite the fact that many of them went back to their home countries, nearly 90% of our education continued through online provision.
What the crisis has taught us, however, is that social interactions among students and between students and teachers are extremely important. Besides, it also showed the importance and contribution of fundamental research towards Covid-19- related research, which is something that required the combined effort of many different disciplines. Not only do we need more insight into the virus itself, but also in behavioural aspects related to social distancing, lessons learned from the past, economic consequences, vaccine development and so on. Our students also became involved in community service related to the crisis and Covid-19 became sometimes a subject in their education
What does this crisis mean for the next academic year at Coimbra Group universities?
We need to move to a blended learning concept where both the quality of the digital skills and the physical interaction need improvement. Such a concept might also contribute to a more sustainable world and reduce inequalities as the educational programmes are more widely accessible. To this end, we have to learn from each other, at the local, national and international level. Sharing best practices, courses and materials, and discussing effective quality assurance could be facilitated at a European level and rewarded in career paths. This also fits in the Open Science policy.
Societal issues and big challenges should become part of curricula as well as the transdisciplinary aspects that come with it. We have to train global citizens who are able to tackle big problems and can interact easily with those having a different professional or cultural background. Having students from all over the world and the ability to collaborate across European universities is important in order to gather those diverse views.
Mobility of students across Europe remains important to acquire the above mentioned competences. Quality of education across Europe needs to be assured if students can also follow part of their programme elsewhere. More modular systems, flexible programmes and recognition by means of microcredentials are required.
With the creation of European University Alliances, Europe is now in a position to fundamentally transform higher education and to remain an attractive place to study, to attract talent, and to integrate education with the European research agenda. We indeed perceive the European University Alliances as a laboratory for synergy between research, education, innovation and service to society. While the universities involved have first been concentrating on the development of innovative teaching in different forms (shared or newly developed courses, study programmes, in physical, blended or on-line formats), their teams have already been combining joint research with education, as the synergy of both is inseparable and represent the essence of universities. Besides, the research component of the alliances will now be strengthened through Horizon 2020 support. The Covid-19 crisis has also accelerated the process of innovation in education and research within the alliances.
The Coimbra Group has been very active in this initiative, having identified its potential from its inception and, following the resolution of the second pilot round, now has a total of 32 out of its 41 member universities in selected alliances. The Coimbra Group provides a platform acting as a source of information, cooperation and exchange of experiences for the member universities taking part in alliances and beyond. We very much hope that the European University Alliances will serve as a model of universities of the future.
The four authors of this editorial all actively participate in this initiative, through the Arqus (Granada and Padova), ENLIGHT (Groningen) and EU4+ (Charles University in Prague) alliances, where we hope to make significant contributions to the ambitious goals of the European Commission and of each of the participating universities.
In her concluding words, Commissioner Gabriel has expressed her commitment to include the vision and experience of all higher education stakeholders to transform higher education and we strongly encourage the Coimbra Group and all its members to keep engaging in this process.
The Coimbra Group has joined over a hundred organisations and individuals in signing a statement coordinated in July by the British foundation Wellcome Trust. This statement advocates for a quick agreement on UK participation in Horizon Europe and advances a number of solutions to some of the remaining sticking points in the negotiations, including:
Demonstrating commitment to the programme
Ensuring a fair financial contribution through a "two-way" correction mechanism
Accepting EU oversight of the use of programme funds
Agreeing to introduce reciprocal mobility arrangements to support the programme
Clarifying that the results of research can be exploited beyond the EU.
The fifth round of UK-EU Future Relationship negotiations took place on 20 – 23 July 2020. The next negotiating round is planned to start on 17 August.
The possibility for UK universities to continue to collaborate fully and on an equal footing with their EU and associated partners in European research programmes (e.g. Horizon Europe), as well as programmes that support student and staff mobility (e.g. ERASMUS+), is a major concern for the Coimbra Group (see Coimbra Group Statement on Brexit).
Joint Statement "Securing a strong outcome for research in the EU-UK future relationship: Reaching an agreement on UK participation in Horizon Europe"
July has been a crucial month for EU policy making and the future of higher education and research. On 21 July, after four days and four nights of complex discussions, EU leaders finally reached a historic accord on a € 1.824 billion package, including both the next EU seven-year budget – the Multiannual Financial Framework (MFF) – and the recovery plan to tackle the economic and social impact of the COVID-19 crisis – Next Generation EU.
While the overall size and unprecedented nature of the package is very good news for the EU, it is less so for European higher education and research, with Horizon Europe and Erasmus+ both being affected by significant budget cuts. The two programmes are now being allocated, respectively, only € 80.9 billion and € 21.2 billion (that is, a € 13.5 billion and €3.4 billion cut compared to what was proposed by the European Commission in May 2020). Such cuts would adversely affect the capacity of the programmes to fully reach their objectives.
The Coimbra Group's repeated concerns  have turned into an extreme disappointment with what appears as a missed opportunity. The association finds it shocking that, in the face of the evidence of the value of research and education in bringing solutions to global challenges such as the one we are currently experiencing, EU leaders – now of all times –  failed to acknowledge this by opting for a short-sighted approach to Europe's development.
In the last months, the Coimbra Group has been relentlessly advocating for increased investment in Knowledge and for an ambitious budget plan which includes both Horizon Europe and Erasmus+ programmes in the pool of recovery instruments. Ahead of the EU Council summit, the Coimbra Group and fourteen other European associations of universities representing over 800 universities in Europe, had joined forces and called on European leaders to step up investment in excellent, cross-border research, education and innovation, both in the Multiannual Financial Framework from 2021 to 2027 and Next Generation EU (see Coimbra Group press release).
"It is highly regrettable that, once again, support to Knowledge is not a priority although the recent COVID-19 crisis has demonstrated that research, innovation and education are instrumental in finding solutions and providing resilience to our society" said Coimbra Group Executive Board Chair, Prof. Ludovic Thilly, in the wake of the EU Council Summit – "The proposed budgets to Horizon Europe and Erasmus+ are well below the proposals from university associations and the European Parliament. We therefore urge the European Parliament President and the members of the European Parliament (MEPs) to put pressure on the EU Council, the President of the European Council and the EU leaders to revise their position. Support to Knowledge is key for Youth & Europe's future!".
On a positive note, at its extraordinary plenary session held on 23 July, the European Parliament expressed disagreement with the cuts made to flagship, future-oriented EU programmes for climate protection, digital transition, health, youth, culture, research and border management and stated that MEPs are prepared to withhold their consent for the MFF "until a satisfactory agreement is reached in the upcoming negotiations between Parliament and the Council, preferably by the end of October at the latest for a smooth start of the EU programmes from 2021." (see European Parliament's press release).
The Coimbra Group applauds the European Parliament's stance on this issue and will continue to plead for increased financial support for education, research and innovation.
For further details about the latest Coimbra Group's policy statements and campaigns related to the MFF and the recovery plan:
"#EUInvestinKnowledge" campaign (14 July 2020)
Joint statement from Coimbra Group Rectors' Advisory Group and Executive Board on the next European Multiannual Financial Framework and the recovery instrument "Next Generation EU" (16 June 2020)
"Seize our common future" campaign (24 July 2019)
Dear colleagues,
We are kindly informing you about the upcoming 10th International Symposium on Ecosystem Behavior, BIOGEOMON 2020 which will be held from 26 to 30 July 2020 in Tartu, Estonia. The focus of BIOGEOMON is on the biogeochemistry of various ecosystems as influenced by anthropogenic and environmental factors. We invite empirical and modeling studies on fluxes and processes related to the turnover of major and trace elements at the ecosystem, watershed, landscape, and global scale.
See more info in the website: www.biogeomon2020.ut.ee
The abstracts' submission deadline is extended until March 16th. We kindly ask you to distribute this message through your academic network. We apologize for the possible cross-posting.
On behalf of the organizing committee
Prof. Ülo Mander

BIOGEOMON 2020 ANNIVERSARY 10th International Symposium on Ecosystem Behavior
BIOGEOMON organizing team invites you to submit an abstract for the 10th International Symposium on Ecosystem Behavior that will be held in Tartu, Estonia, from 26-30 July 2020.
Fifteen European associations of universities – among which the Coimbra Group – unite and call on European leaders to step up investment in excellent, cross-border research, education and innovation, both in the Multiannual Financial Framework from 2021 to 2027 and Next Generation EU, and to commit to putting sufficient resources behind common ambitions.
Together, the initiative's signatories represent more than 800 universities in Europe, committed to create a better future for Europe and its citizens. The 15 associations have united before for the campaign "Seize our common future", calling for an ambitious long-term EU budget for research, innovation and education to boost efforts to solve the manifold future challenges.
"Both Horizon Europe and Erasmus+ are investments in our future and in our youth. They will reinforce Europe's capacities to face today's challenges, and those yet to come. Such challenges may take various forms and solutions will require mobilising various types of knowledge, citizens, and society" says the document released today. "We, universities of Europe, urge European leaders to step up investment in research, innovation and education to foster longterm strategic resilience, enabling Europe to strongly reinforce its role as a global leader in this respect."
The Chair of the Coimbra Group Executive Board believes that "any additional cut to an already low budget allocated to Horizon Europe is further jeopardizing EU capacity to properly respond to the current and future crises." Ludovic Thilly warns that "education, research and innovation must be safeguarded – not recognizing this is just a populist short-sighted view!"
The European Commission has revealed the 24 new European Universities that will join the first cohort of 17 alliances launched in 2019. This second call had 165 higher education institutions from 26 countries selected. The Coimbra Group sees 16 more of its members integrating these pioneer consortia, to add up to the previous 16 selected under the first pilot call.
With 32 out of our 41 members involved directly in this initiative, we are proud to count now almost 80% of Coimbra Group member institutions participating in European Universities alliances. The Coimbra Group is an associated partner to EC2U and CIRCLE U, in addition to existing CHARM-EU and Una Europa alliances.
Since the start in 2018, the Coimbra Group has been actively involved in the co-design process of the European Universities initiative with the European Commission and has made the strong political choice to provide support to all Coimbra Group Universities during the first and second calls of the pilot phase. We will continue playing the role of a multiplier of the innovations emerging through this initiative, in close cooperation with the 8 alliances involving Coimbra Group members: 4EU+, ARQUS, CHARM-EU, Circle U., EC2U, ENLIGHT, EUniWell and Una Europa.
The Chair of the Coimbra Group Executive Board, Prof Ludovic Thilly, declared to be "delighted to see that almost all Coimbra Group universities are now part of this unprecedented initiative of Alliances. As a network, we will make sure to involve all our members and beyond". The Coimbra Group wishes to remain the platform facilitating the exchanges of experiences and learning between member universities that it has always been since 1985, also in this field.
The Coimbra Group monthly newsletter includes a permanent section on European Universities, where we inform about policy developments and disseminate relevant information on the alliances involving our members. Recently the Coimbra Group held an open session on the European Universities Alliances where the discussions focused on the sustainability of the Initiative at European level after 2023, on the European degree and on the Covid-19 impact on the alliances' activities. The outcomes & key takeaways from this webinar are available on this dedicated webpage.
European Universities are transnational alliances of higher education institutions from across the EU that come together to establish European inter-university campuses for the benefit of students, teachers and society. With financial support from both the Erasmus+ and Horizon 2020 programmes (up to €287 million), their goal is to enhance the quality, inclusion, digitalisation and attractiveness of European higher education through in-depth and systemic cooperation between higher education institutions. It is a flagship initiative of the European Education Area, that will also contribute to shape the vision of Universities of the future.
On 7 July the Chair and Vice-Chair of the Executive Board, Prof Ludovic Thilly and Prof Jürgen Barkhoff, and the Office Director, Emmanuelle Gardan, held a very constructive meeting with the European Commissioner for Innovation, Research, Culture, Education and Youth Mariya Gabriel to discuss her priorities in relation to universities and exchange with her on how the Coimbra Group could further support the EC agenda in these areas.
The meeting addressed a broad range of issues, including the investments for Erasmus+ and Horizon Europe in the future MFF and EU recovery package, the European Digital Education Plan, the upcoming Communications on the European Research Area and the European Education Area, as well as actions to effectively build synergies between the two.
We are also immensely grateful to Commissioner Gabriel for honouring us with her presence at the Coimbra Group 2021 Annual Conference to take place at Charles University in Prague on 16-18 June 2021. Another meeting with Mariya Gabriel will be organized after the summer break: this will be the opportunity to discuss the recent deal reached by reached by the European Council and for the EU's 2021-27 MFF and 2021-23 Next Generation EU recovery fund.
On 1 July 2020, Germany will take over as chair of the Council of the European Union for a six-month term. The draft programme of Germany's Presidency of the Council of the EU was released on 24 June under the motto "Together for Europe's recovery". It focuses on four areas: overcoming the consequences of the coronavirus pandemic and economic recovery; Multiannual Financial Framework; negotiations on the future relationship with the United Kingdom; and further topics, including climate protection, digitalisation and Europe's role in the world.
On 3 June, the Coimbra Group Office took part in the digital morning coffee organised by the DAAD and the EU Liaison Office of the German Research Organisations (KoWi), with support of the Permanent Representation of the Federal Republic of Germany to the EU, on the topic "The German EU Council Presidency – What is on the menu for higher education, research and innovation?".
Priority will be given to the timely adoption of legislative proposals for the Horizon Europe and Erasmus+ programmes for 2021-2027. The first implementation measures for a European area of education, research and innovation shall also be launched.
In the field of higher education, Council conclusions are planned on:
Digital education, building on the Digital Education Action Plan to be published in early autumn 2020;
European Universities, providing political guidance for the further implementation of the initiative under the Erasmus+ programme and as an example for new forms of higher education collaboration;
Vocational education and training, including at tertiary level.
As the European Commission is expected to publish a communication on the Education Area, the German Presidency will also start preparing Council conclusions on the strategic framework for European cooperation in education and training post-2020.
In the fields of research & innovation, the topic of a dynamic, solidary and goal-oriented collaboration within the European Research Area (ERA) will take centre stage under the German EU Council Presidency with a Ministerial conference taking place on 21-22 October 2020 on this topic.
The European Commission is expected to publish a communication on the ERA in July 2020 and Council conclusions are foreseen in order to:
give new impetus to the collaboration between the Commission and Member States;
intensify synergies between different policy fields, in particular research and education;
create an area, which enables researchers to pursue a genuine European career, enjoying free movement across borders and systems;
better prepare the ERA for future challenges, increase its resilience and international competitiveness;
upscale the ERA's external dimension, in particular towards Africa and the Western Balkans.
The full podcast of this event is available here.
Professor Patrick Gilli, President of Paul-Valéry Montpellier 3 University, Honorary President of the Coimbra Group and Professor Philippe Augé, President of the University of Montpellier
As Presidents of Montpellier University and Paul-Valéry Montpellier 3 University, we would have been delighted to welcome the 2020 Coimbra Group Annual Conference and General Assembly in Montpellier from June 10 to 12. Together with the Executive Board and the Brussels Office, we were looking forward to having fruitful exchanges and meetings, including students, and to making your stay in vibrant Montpellier a great experience. This conference aimed to reinforce the longstanding relationships and valuable cooperation between us, as well as initiate inspiring partnerships and new opportunities for the development of higher education, research and innovation, and academic outreach.
This was before the pandemic hit us all. The conference can eventually not take place and we feel deeply disappointed. We would nonetheless like to share a few thoughts with you.
Montpellier is a historic city in the dynamic Occitanie region, rooted in a long academic tradition celebrating in 2020 the 800th anniversary of its first university, where high-quality research and education have thrived for centuries. With now over 70,000 students, the University of Montpellier and Paul-Valéry Montpellier 3 University are engaged in several innovative projects, research-intensive activities and international cooperation. Such dynamism stems from the many exchanges of ideas, academics and students over the past 800 years. As the proud heirs of such history and tradition, we are keen to promote the longlasting humanist values of our universities, aiming at the excellence of research and education while serving the community in an increasingly complex world.
In the last few months, we all have experienced unprecedented difficulties and hardships both in our professional and personal lives. The COVID crisis can contribute to raising awareness about the importance of research and knowledge to help us face the uncertainty of the years ahead. These are times when higher education institutions have a key role to play in both the development of research and the continuity of education. This crisis requires institutions and individuals to find innovative solutions to take up new challenges. It is a daunting task that reminds us all of our responsibility to society.
As we are facing a very uncertain future, the strength of international partnerships is being tested. We trust that we can go through this crisis together and maintain fruitful cooperation between our institutions, and even strengthen our relationships through adversity. The extent of the pandemic makes it all the more pressing for researchers to collaborate and for universities to continue valuable exchanges.
We would also like to insist on the imperative necessity to strengthen European values and citizenship. This is of particular importance at a time when the United Kingdom is formally leaving the EU, when we observe a dangerous fragmentation of the world, and when a systemic crisis might herald dark days to come. This is the right time to remember the tumultuous history of our continent, the value of the construction of the European Union, and to highlight and strengthen the role it should play in the future. This is the right time to value, extol and build upon our diversity.
As our common future depends on the capacity of the younger generations to address unprecedented challenges, education must be our core priority. No doubt that the Coimbra Group's commitment to forging a dynamic and successful European area for higher education and research will be instrumental in doing so. The need for European cooperation has never been greater.
In the May issue of the Coimbra Group newsletter we announced the publication of a report on the practices of our member universities in response to the Covid-19 crisis. We were happy to be approached by Ms Anna Panagopoulou, Acting Director, Research & Innovation Outreach at the Directorate General for Research and Innovation (DG RTD) of the European Commission earlier this month, who reached out to us to discuss the insights from this report and envisage in which concrete ways the EU can further support universities through the EU recovery instrument Next Generation EU.
Dr Ann Ryan, Chair of the Coimbra Group Research Support Officers Working Group and Dr Gunda Huskobla, Chair of the Coimbra Group Doctoral Studies Working Group, who authored the chapters related to doctoral and research activities, attended the meeting, together with the Chair of the Executive Board, Prof. Ludovic Thilly and the staff at the Coimbra Group Office.
The Coimbra Group outlined the many ways in which universities are combatting the pandemic and how the research that is being carried out is multidisciplinary and therefore not limited to targeting the immediate health and medical challenges, but addresses societal, economic and cultural challenges, too. Insights from fundamental research have been harnessed in finding solutions to the pandemic and this is why it is important that fundamental research continues to be supported. Furthermore, what has come to the fore is the critical importance of Social Sciences and Humanities which demonstrates how multidisciplinary research is what will enable us to re-think and re-order society.
The Covid-19 crisis is posing a number of challenges to the practical implementation of research, in that access to critical research has been limited and complicated, due to the lockdown and the consequent sanitary restrictions. As a result, although research as such did not come to a halt (many researchers pivoted from lab-based research to data analysis) the move to remote work brought along issues of inequality, as researchers with caring responsibilities, women in particular, have been impacted the most. The crisis is also hampering the career progression of doctoral candidates, who will need time-to-degree as well as funding extensions for their PhD studies.
In light of the above findings, the recommendations we have conveyed through our report and to DG RTD are people-based and include support for human capital in general and particularly for young researchers, so as to avoid that the crisis has a detrimental impact on the next generation of researchers. From their side, DG RTD explained that their aim is to provide as much flexibility as it is allowed by the current framework programmes and that the recovery package will include top-up funding for research that addresses the Covid-19 crisis. Synergies with the Directorate General for Education, Youth, Sport and Culture and the Directorate General for Regional and Urban Policies will also be explored.
With regard to policy developments, Director Panagopoulou announced that although the ongoing study on the Future of Universities will be concluded this summer, the consultation process will continue in the coming months as there are some aspects that further need to be analyzed in depth. Furthermore, the Communication on the European Research Area, which is expected to be published on 22 July, will set out new policy developments.
Bringing together input from 33 universities across Europe, the report "Practices at Coimbra Group Universities in response to the COVID-19 – A Collective Reflection on the Present and Future of Higher Education in Europe" provides a snapshot of the situation at Coimbra Group universities during the period coinciding with the pandemic outbreak and lockdown in Europe (end of February/early March to April 2020): the Executive Board, the Office and the Working Groups will continue to carefully monitoring the situation at universities and promoting cooperation among our members. Constant dialogue with the European Commission will also be maintained to ensure that the EU recovery instrument, Next Generation EU, does include relevant measures for universities which have also been severely impacted by the Covid-19 crisis.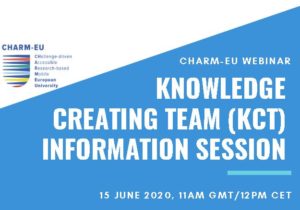 Last June 15th 2020, over 170 academics and researchers from CHARM-EU partner institutions – all Coimbra Group members – took part in the pilot European Universities CHARM-EU's first induction session for potential staff aimed at bringing multiple disciplines together to face global challenges.
The webinar introduced CHARM-EU's innovative new approach to inter and transdisciplinary alliances: The Knowledge Creating Teams (KCTs). KCTs are collaborative groups of academics and non-academic actors formed around a common expertise/interest related to a sustainability theme. KCTs bring multiple disciplines together to face global challenges and are organised not by discipline, research or educational activity but by key themes that bridge all these activities to build a pilot master's programme together. The creation of the CHARM-EU KCTs with academics will be complemented with professionals from the business sector and the civil society.
The response to this first call to action was overwhelmingly positive and over 170 staff have now signed up to one or more of the three themes that are being designed for the CHARM-EU's first pilot masters programme: Life & Health, Water, and Food. The introductory webinar was delivered by Dr Tim Savage, CHARM-EU Trinity College Dublin Project Director; Gemma O'Sullivan, CHARM-EU Research Associate, Trinity College Dublin; and colleagues from Utrecht University's CHARM-EU team, Jan Haarhuis and Sanne van Vugt, respectively leader and co-leader of WP teaching and learning of CHARM-EU.
Once established, the KCTs are participating in content-creation workshops to develop the CHARM-EU's pilot Masters in Global Challenges for Sustainability, one of the main expected outputs of the alliance. KCTs will help to design and deliver innovative, transdisciplinary modules and programmes, form transdisciplinary research networks, potentially raise funding and lead commercialisation projects, and develop a shared thematic, inter-European research community.
KCTs have two levels of membership: Core and Expanded Network.
· KCT Core: research, design, develop and teach challenge-based content in the pilot masters programme
· KCT Expanded Network: inform curriculum design and join and build trans-institutional research communities and communities of CHARM-EU stakeholders connected to thematic challenge areas.
Through engagement with CHARM-EU, participants will be supported to build research networks with academic and non-academic actors from across Europe and to focus their research efforts within thematic challenge areas. They will receive training in transdisciplinary approaches to teaching/learning, as well as research and novel pedagogies including challenge-based learning.
About CHARM-EU Initiative
CHARM-EU is one of 17 European universities funded by the European Union through the first call of the European Universities initiative. CHARM-EU represents a Challenge-driven, Accessible, Research-based and Mobile university and its mission is to bring together a new generation of creative Europeans enabled to cooperate across languages, borders and disciplines to address societal challenges and skills shortages in Europe. It will design and test a new European University concept through the creation of a pilot masters delivered across all partners and aligned with the United Nations Sustainable Development Goals.
CHARM-EU's Alliance members are University of Barcelona, Trinity College Dublin, Utrecht University, Eötvös Loránd University and University of Montpellier. The Coimbra Group is an associated partner to the CHARM-EU alliance.
All European Universities in the alliances share a long-term strategy and promote European values and identity. They will also contribute to the sustainable economic development of the regions where they are located, as their students will work closely with companies, authorities, academics and researchers to find solutions to the challenges their regions are facing. For further information on the KCTs, check out CHARM-EU website https://www.charm-eu.eu, or contact info@charm-eu.eu
A.Gallerano, M. Gusella, D.Longoni, A. Paccagnella, University of Padua
The University of Padua has recently hosted an International Staff Training Week 2020 on Virtual Exchange for Innovation in Education (15th – 17th June). Over 200 professionals worldwide joined the event and interacted with some of the most influential scholars and professionals who outlined the state-of-the-art and the future of virtual exchange in higher education. Speakers and panellists shared exciting case studies and best practices exploring virtual exchange from different perspectives – theoretical and practical – including policy, design, implementation, and recognition.
When we first decided to organise this event, we would have never imagined what was lying ahead of us with the COVID-19 pandemic. What was a 'niche sector' in higher education has now turned into a very popular tool for collaborative online learning. Virtual Exchange is expanding rapidly in Higher Education and is attracting increased interest from key stakeholders at all levels.
Given the unprecedented relevance of our Staff Week topic, we decided to adjust the programme to a fully online event. It was certainly a challenge, but also a huge opportunity. We present here our thoughts on what has happened, what implications derive for international staff training, and on how to improve and replicate similar initiatives beyond COVID-19 emergency.
Opportunities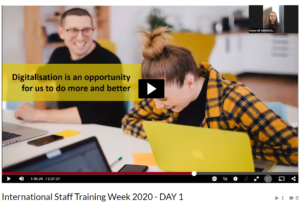 Moving a training week online may ease some of the burden for the institutions involved, and primarily the organising institution. Organisation is fast and flexible; the event is more environmental-friendly (no international travels, no paper documents, etc.) and much cheaper (no social events, no lodging, no visa, etc.), which is an important factor in these hard economic times. Further, it is strikingly inclusive among participants and speakers, being open to participants from all over the world (geographical diversity was incredible!). Real-time and participatory attendance is easy also for those with little time for travelling, or mobility limitations. Even the shyest participant can express her/his opinion via the chat box and Q&A functions. Organisers enjoy a broader choice of quality international speakers: a 1 hour-commitment can fit into the most packed agendas. Session recordings can be shared with colleagues anywhere and can be watched again if needed, creating an impressive multiplier effect. Such a diversity of participants and speakers enriches the training programme and the perspectives offered. As a beneficial side effect, this contributes to raise the international visibility and profile of the hosting university.
Challenges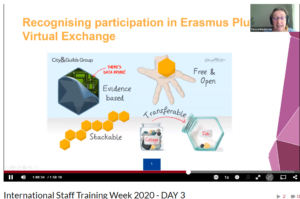 When converting a traditional Staff Week into an online training event, organizers must follow the fast pace of online-event planning. In our case the number of participants increased by a factor of 8 (from 25 to over 200) and so did emails, requests, questions to deal with and to solve. Technical training of both organisers and participants is another key issue. Many of us took an accelerated training on virtual conference ICT tools during the pandemic: more should be learned, in order to professionally manage training events. A high-speed internet connection is compulsory for organisers and speakers: as Tom Gorman demonstrated during his presentation, communication latency may still be a big challenge.
Yet, the most important and difficult issue is how to adjust a face-to-face program into a meaningful and effective online event. Our local Virtual Exchange experts played a key role, helping us to re-design the programme, combining webinar-like sessions with interactive workshops, virtual tours, etc. Quality moderation and workshop facilitation by professional trainers are also of utmost importance for a quality output in terms of both organisation and training.
Despite all efforts, we could not find a replacement for the lack of human interaction and 'physical experience' in the hosting university. This is what our participants – and ourselves – certainly missed most.
Tips & tricks
If you are thinking of hosting an online Staff Training Week and you are wondering if it is worth the effort, we definitely recommend: go for it! To help you design, implement and follow-up your online event, we have summarized a few tips & tricks based on our experience as well as participants' comments and feedback.
Do not automatically convert a face-to-face programme into an online one: context is key;
Exploit the potential of geographical diversity: include sessions / presentations by colleagues from other regions of the world;
Keep sessions short (max 2-hours) and add frequent breaks: we are all facing digital fatigue;
Alternate webinars and workshops, institutional presentations and practical training sessions; allow for enough time for case-studies presentation & discussion;
Provide a list of background reading materials in advance, so participants may get prepared before attending the session;
Use interactive and innovative tools to animate your workshops (e.g. polls, Padlet, canva.com, mentimeter, etc.) as well as professional facilitators: it will make a difference;
Stimulate the group dynamics: think of new, innovative ways of networking even when online, possibly including preparatory activities;
Enrich the program with some cultural elements: they will give a flavour of the hosting city and environment;
Do not forget about technical support to run the ICT tools: you will always need it!
Follow-up on the event and collect feedback from participants, with special focus on the online format. You will get lots of new ideas!
Quote from one of our participants
"Thank you very much for this event, I truly enjoyed the input, such great speakers, so well done, it´s been such a pleasant ride!"
The Coimbra Group welcomes the recent proposal for the next European Multiannual Financial Framework and the recovery instrument, "Next Generation EU". It commends in particular the specific top-up allocated to the Horizon Europe programme. We would, however, wish to express our great concerns about the missing explicit support, in the recovery instrument, for Education and specifically the Erasmus+ programme. We feel the need to recall that the future of Europe will crucially depend on the support given to its young people and their commitment to the further development of Europe. We therefore once again call on the EU institutions as well as on national policy makers to strengthen their investment in Knowledge, in particular in education and research, and ask for a more ambitious budget plan which includes both Horizon Europe and Erasmus+ programmes in the pool of recovery instruments.
16 June 2020
The Coimbra Group Rectors' Advisory Group
Patrick Gilli, Rector of University Paul-Valery Montpellier 3, Honorary President
Tomáš Zima,  Rector of Charles University in Prague
Wojciech Nowak, Rector of Jagiellonian University in Kraków
Rosario Rizzuto, Rector of  the University of Padova
Luc Sels, Rector of KU Leuven
Pilar Aranda Ramírez, Rector of the University of Granada
Stuart Corbridge, Vice-Chancellor and Warden of Durham University
The Coimbra Group Executive Board
Ludovic Thilly (University of Poitiers), Chair
Jürgen Barkhoff (Trinity College Dublin), Vice-Chair
Cláudia Cavadas (University of Coimbra)
Daniel Donoghue (Durham University)
Johnny Laursen (Aarhus University)
Dorota Malec (Jagiellonian University in Kraków)
Lenka Rovná (Charles University in Prague)
Efrem Yildiz Sadak (University of Salamanca)
Elmer Sterken (University of Groningen)
Luca Verzichelli (University of Siena)
PDF version of the statement :
Joint Statement MFF and Next Generation EU
The University of Padua, Italy, is pleased to invite you to its 1st Virtual International Staff Training Week, which will be held on June 15th – 17th 2020. The Staff Week was originally foreseen to be face-to-face in Padua but, given the COVID-19 emergency, the programme has been adjusted so to have it fully online.
This year's Training Week is dedicated to Virtual Exchange for innovation in Education: we will discuss oppportunities and challenges related to Virtual Exchange, look into practical applications and outcomes, share experiences and best practices. Digital innovation is key to higher education institutions worlwide, even the more in times of crisis like the one we are currently facing. The event represents a unique opportunity to learn, benchmark and network with colleagues from across the globe and is aimed at supporting institutions in making the most out of Virtual Exchange.
Although registrations for the full staff week closed in March, we decided to open up Day 1 and 3 of the even to a wider public. We indeed feel that discussion around virtual exchange and the future of student mobility is key now that we are all developing new strategies to respond to the COVID-19 emergency. Open sessions include:
15 June (10:00-12:00) – Is virtual real? with contributions by prof. Francesca Helm (University of Padua), Harpa-Sif Arnarsdottir (European Commission – DG EAC) and Tom Gorman (Coventry University).
17 June (10:00-12:30) – Re-thinking student and staff mobility , panel discussion with international speakers and case studies presentations on recognition of virtual exchange
17 June (15:00-17:00) – NICE project multiplier event (interactive workshop) – for this workshop participation is limited to 50 participants.
Detailed information, including the agenda and link to the online registration, can be found at: https://www.unipd.it/en/international-staff-week 
Under exceptional circumstances, the 2020 Coimbra Group General Assembly took place today, 12 June, as an online live session due to the current Coronavirus pandemic restrictions.  We very much regret not being able to be in Montpellier, as originally planned, for what would have undoubtedly been a fruitful and exciting three-day Annual Conference, hosted by our two member universities in the South of France, the University of Montpellier and the University Paul Valéry.
We are, however, delighted and honoured to announce that the General Assembly has admitted Utrecht University as the Coimbra Group 41th member. Established in 1636, Utrecht University has a long history and is rich in tradition. Its legacy is reflected in the buildings, gardens and street names across the city.
We are also pleased to announce the re-election of Prof. Ludovic Thilly, Vice-Rector for European Affairs at the University of Poitiers and currently Chair of the Coimbra Group Executive Board, and Prof. Lenka Rovná, Vice-Rector for European Affairs at Charles University in Prague, as members of the Coimbra Group Executive Board for a second mandate. We wish to congratulate them on their re-election and warmly thank them for their long-standing strong commitment and dedicated service to the work and dynamism of our network.
Professor Henk Kummeling, Rector Magnificus of Utrecht University, stated:
"Our new institutional strategic plan (2020-2024) and our strong commitment to our European University Alliance CHARM EU brought us to research the opportunity to become part of the Coimbra Group which has been on our radar for a couple of years now.
Utrecht University has invested strongly in educational innovation for several decades and is proud of its pioneering legacy here. We have also shown great commitment to the development of interdisciplinary research and education. The way in which we conduct research is central to the Utrecht University Open Science Programme. To increase impact, we enter into public engagement through discussions with social parties, citizens and governments about the choice of research, the implementation and the possible application of research results. Transforming the way research and researchers are rewarded and incentivized, Open Access and FAIR data & software are also part of the Open Science Programme.
For many years now we have gained vast experience which can be value to the members of the Coimbra Group. We wish to add to debate and discussion, academically and policy wise. Several members have indicated that the Coimbra Group has helped them shape their societal agenda. Utrecht University will continuously challenge its representatives to spark conversations to shape and sharpen our agenda and inspire others in theirs. We are also very keen to learn Coimbra Group's views on open science and digitalisation".
We very much look forward to cooperating with our new colleagues at Utrecht University! And of course, we also look forward to seeing again, face-to-face, all Coimbra Group colleagues at the 2021 General Assembly, which will be kindly hosted by Charles University in Prague on 15-17 June 2021. Watch the video here.
On 10 June the Coimbra Group held an open session on the European Universities Alliances.
The report from the event is available here.
The event, originally planned as a physical gathering within the programme of the Coimbra Group annual conference in Montpellier, took place in the form of a webinar due to the mobility and sanitary restrictions under the Covid-19 emergency. Booked out in only a few days, the success of this event is testament to the importance of the European University Initiative for European higher education and research.
We would like to thank the speakers and all the participants for the constructive discussions.
The replay of the webinar, as well as a graphic recording, will be available shortly on the event's page.
We are pleased to inform you that the application for the upcoming Intercultural Staff Training 2020 of Eötvös Loránd University, organized by the Department of Erasmus+ and International Programmes and the Institute of Intercultural Psychology and Education (IIPE), Faculty of Education and Psychology IS NOW OPEN.
The training will be held from 8th to 12th June 2020 and targeted mainly at staff members of higher education institutions who work with international students and staff on a day-to-day basis and have at least one year of work experience in this area.
The training program aims to promote intercultural skills and competencies especially for those who engage in intercultural encounters in their everyday work and feel that they need to further develop their skills to be more successful.
Those who participate in the whole training receive a Certificate of Attendance at the end.
The participation fee is 150 EUR, which includes the complimentary lunch of the first day, welcome package, work materials, cultural programs, coffee breaks, and farewell dinner.
The application deadline is 16th February 2020.
For more information and registration please visit our homepage
https://www.elte.hu/en/incoming-staff-for-training/european-partner
If you need further information, do not hesitate to send an email to erasmus@elte.hu
(Subject: Intercultural staff training 2020)
We are looking forward to welcoming you to Budapest.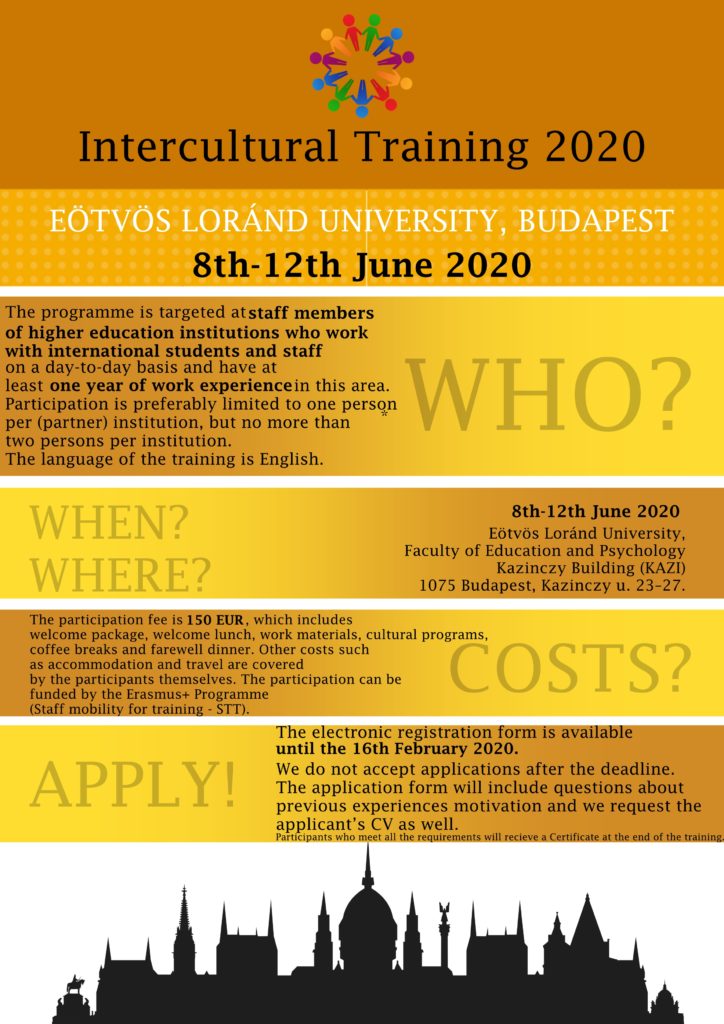 Saint Petersburg, 1-5 June 2020
Saint Petersburg University is happy to invite you to the 4th SPbU Staff Training Week "Developing Competences for Successful IRO Work" that will take place at Saint Petersburg University from 01.06.2020 to 05.06.2020. During the Week we will explore such important topics as Intercultural Communication, Negotiation Skills, Stress Management and others connected to the soft skills necessary for successful work in the sphere of international education.
We invite partners who work in the international offices or takes care of the student and staff exchanges in any other position at international universities.
You can find the information, preliminary programme and the registration form on https://events.spbu.ru/events/staff-2020?lang=Eng . We kindly ask you to register by March 15th. Please, note that the participation fee of about 200 euro will apply that will cover meals and social programme. The link to the payment will be sent to the selected participants after the deadline at the end of March. The number of places is limited.
We encourage our Erasmus+ partners to use Erasmus+ grants for training. Accommodation and travel should be covered by the participants.
We will be happy to see you at SPbU! With any questions you can contact me e.petryanina@spbu.ru or my colleague Ekaterina Soloveva ekaterina.soloveva@gsom.spbu.ru