2020 Laureate of the Arenberg-Coimbra Group Prize for Erasmus Students
07 May 2020
Recommendation 2020
The Selection Committee established by the Executive Board for the 2020 Arenberg-Coimbra Group Prize for Erasmus Students is pleased to unanimously nominate Ms Maddalena Centanni from Leiden University (The Netherlands) for this year's award. Ms Maddalena Centanni spent her 6 month Erasmus exchange at Uppsala University in Sweden in 2017-2018. Shortly after graduating in February 2019 with a degree in Bio-Pharmaceutical Sciences from Leiden University with cum laude, she was awarded the Nijbakker-Morra Oncology Research Award 2019 in Amsterdam.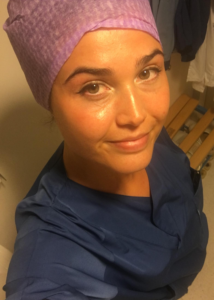 Ms Maddalena Centanni has shown that the value of the Erasmus experience was essential for her future career. The opportunities created by the European Higher Education Area allow students to develop their research interests and serve to demonstrate the power of strengthened international cooperation.
Her research internship at the host University in Uppsala enabled Ms Centanni to work with and learn from leading scientists in her field as well as to access new material and methods. The project required interdisciplinary approaches (medical and pharmaceutical) and involved her studying alongside experts from the Netherlands and Sweden. Her work resulted in impressive, highly relevant and prize-winning bio-pharmaceutical research on the dosage of cancer drugs. Her application represented a convincing argument that the international and interdisciplinary team of Dutch and Swedish researchers were crucial in enabling these results and not least in generating international interest for her project over multiple countries.
In her application Ms Maddalena Centanni articulated clearly her career trajectory gained from the Erasmus experience, namely a Dutch-Swedish PhD project. Currently Ms Centanni is a MD/PhD student both at the University of Amsterdam and the University of Uppsala. Her publications are testament to the quality and impact of her research.
The Selection Committee would like to congratulate Ms Maddalena Centanni on this year's Arenberg-Coimbra Group Prize and wish her a successful career that builds on her European research and educational experience.
We should also like to commend the other applicants; the standard was very high and their testimonials also provided excellent examples of the impact of their mobility experience and academic qualities, as well as their commitment to the Erasmus project at the Coimbra Group Universities where they were awarded their degrees and undertook their exchange periods.
Laureate article