Go back
Science, Technology, Engineering and Mathematics (STEM)
Working Group
Chair: Artur Schmitt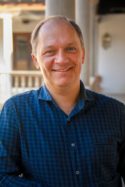 Full professor at the Department of Applied Physics. He holds the degrees of Master of Science (State University of New York at Albany, USA), Bachelor of Physics (Diplom-Physiker, Universität Würzburg, Germany) and a PhD with distinction in Physics (Doctor en Ciencias Físicas, Universidad de Granada, Spain). His research focuses on the study of colloidal aggregation processes by means of optical and simulation techniques with a strong emphasis on the development of theoretical models for the kinetics of aggregate formation in electrostatic heteroaggregation processes and aggregation of superparamagnetic particles. He has taught face-to-face and distance courses in Physics, Biology, Computer Engineering, Acoustic Pollution, Musicology and Architecture. He participated in and coordinated numerous national and international projects in research, academic cooperation and innovation.
Vice-Chair: Alina Petre

Lecturer at the Department of Chemistry at Alexandru Ioan Cuza University (UAIC) of Iaşi (Romania). After her graduation in Chemistry at UAIC in 2000, she enrolled in a Master program and in 2001 she moved to the University of Konstanz (Germany) where she conducted research for her Master of Science degree. Subsequently, she worked on her dissertation and received a PhD in Chemistry with distinction from the Uni-Konstanz. After a postdoctoral stay at Washington University (St. Louis, USA), she returned to UAIC in 2012.
Her research focuses on the study of oxidative modifications of proteins, affinity-MS and development of new diagnostic tools for lysosomal rare diseases. Her research gave rise to numerous publications and invitations at international conferences. She participated and coordinated several national and international research and academic cooperation projects.
Focus of Working Group
Science, Technology, Engineering and Mathematics (STEM) have benefited, over the centuries and still today, from fundamental contributions of scholars from universities which are now members of the Coimbra Group. STEM remains a major factor of modernization and progress for society at large. As research-intensive universities, the members of the Coimbra Group are firmly committed to and constantly develop and expand their research and education in STEM, also including societal outreach related to these fields.
The STEM Working Group promotes and supports an increased cooperation among Coimbra Group universities in STEM related fields in order to coordinate or set up highly competitive study programmes and research, in particular in the framework of Horizon 2020 and Erasmus+, to contribute to high-level policy seminars and joint events, to disseminate STEM research among wider audiences, to share good practices, especially attracting young people to STEM fields, to promote interdisciplinary research, etc.
The members of the STEM Working Group have experience in positions of responsibility within educational or research programmes in STEM as well as significant expertise in STEM research, education and / or dissemination and outreach.
Recent highlights
Supporting the International Summer School: PROTEOMICS – from Introduction to Clinical Applications, Iaşi (Romania), 09-13 July 2017
Submission of an Erasmus+ KA2 Strategic Partnership proposal STEM-ital (STEM – Innovation in Teaching and Learning: International Summer School), March 2017
Working Group meeting with seminar on outreach activities in STEM fields, Louvain la Neuve (Belgium), 23 January 2018
Participation in
– Coimbra Group High-Level Workshop on "Lifelong Learning and Employability", Brussels, 24 January 2018
– 1st European Education Summit, Brussels, 25 January 2018
Current/forthcoming activities
Collection of good practices in attracting young people to STEM fields
Promotion of academic cooperation in STEM programmes
2nd edition of "PROTEOMICS – from Introduction to Clinical Applications", Iaşi (Romania), July 2018
Summer School in Algebra and Topology, Université catholique de Louvain (Belgium), 12 – 15 September 2018 (funded by a joint project with the universities of Coimbra, Padova and Poitiers)
Event on outreach activities in STEM fields, Poitiers (France), autumn 2018
Project initiative: New teaching with ancient scientific instruments (together with Heritage Working Group)
Contact person at the CG Office: Anna Quici (quici@coimbra-group.eu)