Equality & Diversity
Working Group
Chair: Annalisa Oboe
Professor of English and Postcolonial literatures (Department of Linguistic and Literary Studies) at the University of Padua, Italy, where she currently serves as the Director of the 'Elena Cornaro' University Centre for gender studies and policies. Her research focuses on postcolonial theory and cultures, contemporary Anglophone literatures, women's writing, African and Black Atlantic narratives, postcolonial Italy. She is the founder and editor-in-chief of the online open-access scientific journal From the European South: a transdisciplinary journal of postcolonial humanities. A complete list of academic publications is available at the RESEARCH Padua Archive.
Vice-Chair: Vera Sokolova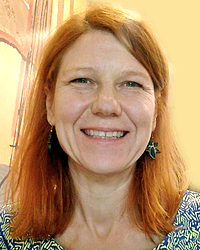 Associate Professor of History and the Head of Graduate Program in Gender Studies at Charles University, Prague, Czech Republic. She is a coordinator of the Gender 4EU+ network of the 4EU+ European University Alliance; a member of the Working Group for Equal Opportunities at Charles University; former member of the Committee for Sexual Minorities of the Government Council of the Czech Republic; and member of several editorial boards of academic journals and research boards of academic societies. She specializes in comparative history of gender and sexuality, stratified reproduction and reproductive technologies, collective memory and public space. She is the author of four books and numerous chapters and research articles, mostly in English.
Focus of Working Group
This Working Group strives to support and promote networking across Coimbra Group universities in the area of inclusive education and leadership, equality between men and women, diversity and intersectionality. Despite recent progress in achieving equality in research and innovation in Europe, gender and other differences in the participation and representation of academics remain large. While the gender gaps among higher education graduates has been reduced in many degree programs and fields, and students from disadvantaged backgrounds form a greater part of the student body across European universities, women and minorities are still under-represented in certain fields of study, especially STEM fields and in senior research and professorial positions. Equality and inclusion is of crucial importance in facilitating long-term improvement of the quality and excellence in research and innovation, and for that reason, the ED Working Group will focus its primary attention and activities in this direction.
Diversity is a key precondition for flexibility and open-minded thinking, both crucial qualities for the world of tomorrow. In the future, the majority of currently known jobs and labour market opportunities will disappear and will be replaced by new challenges. Universities must prepare future leaders for this paradigmatic and conceptual shift by stressing the importance of diversity. As global challenges and threats affect all humanity and answers must be increasingly sought together, equality and diversity become interconnected concepts. Without diversity there is no meaningful equality and without equality there is no successful and sustainable democracy. The secondary focus of the ED Working Group is on promoting the incorporation of diversity into pedagogical practices, collaborative research projects and institutional measures across the CG.
The ED Working Group devotes specific attention to an exploration of the influence of Covid-19 on the Equality, Diversity and Inclusion (EDI) area, as EDI plays an important role in the world's sustainability, especially when put in the context of the current, long-lasting pandemic. The ED Working Groups has identified new research/action lines, connected to critical issues that have acquired a new urgency since January 2020.
Recent highlights:
Official introduction and formal launch of the Working Group at the 2021 Coimbra Group General Assembly (June 2021).
Joint webinar with the CASPER project on "Advancing equality, diversity and Inclusion through a European certification scheme for gender equality" (November 2021).
Contribution to the Coimbra Group Report "Universities' response to the Covid-19 crisis: What have we learnt so far? Key messages and recommendations from Coimbra Group Universities" with the production of the chapter on Equality, Diversity, Inclusion (December 2021).
Ongoing/forthcoming activities:
Sharing of experience and knowledge about the implementation of Gender Equality Plans at Coimbra Group Universities and beyond.
Reflection on academic freedom in relation to the woke movement.
Collaborative workshop with other Working Groups on the EDI dimensions of their activities.
Developing the ED Working Group as a "think tank" for sharing good practices, jointly thinking through the EDI agenda in the Coimbra Group member universities in international and EU contexts, and serving as an EDI advisory body for the leaderships of our respective universities.
Contact person at the CG Office: Emmanuelle Gardan (gardan@coimbra-group.eu)