Equality & Diversity
Working Group
Chair: Annalisa Oboe
Professor of English and Postcolonial literatures (Department of Linguistic and Literary Studies) at the University of Padua, Italy, where she currently serves as the Director of the 'Elena Cornaro' University Centre for gender studies and policies. Her research focuses on postcolonial theory and cultures, contemporary Anglophone literatures, women's writing, African and Black Atlantic narratives, postcolonial Italy. She is the founder and editor-in-chief of the online open-access scientific journal From the European South: a transdisciplinary journal of postcolonial humanities. A complete list of academic publications is available at the RESEARCH Padua Archive.
Vice-Chair: Vera Sokolova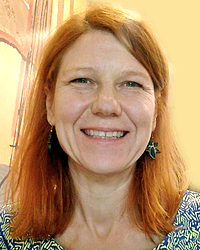 Associate Professor of History and the Head of Graduate Program in Gender Studies at Charles University, Prague, Czech Republic. She is a coordinator of the Gender 4EU+ network of the 4EU+ European University Alliance; a member of the Working Group for Equal Opportunities at Charles University; former member of the Committee for Sexual Minorities of the Government Council of the Czech Republic; and member of several editorial boards of academic journals and research boards of academic societies. She specializes in comparative history of gender and sexuality, stratified reproduction and reproductive technologies, collective memory and public space. She is the author of four books and numerous chapters and research articles, mostly in English.
Focus of Working Group
The Equality and Diversity Working Group (ED WG) strives to support and promote networking across Coimbra Group universities in the areas of inclusive education and leadership, equality between men and women, diversity and intersectionality. Equality and inclusion is of crucial importance in facilitating long-term improvement of the quality and excellence in research and innovation, and for that reason, the ED WG continues to focus its primary attention and activities in this direction. As global challenges and threats affect all humanity and answers must be increasingly sought together, equality and diversity become interconnected concepts. ED WG's secondary focus is on promoting the incorporation of diversity into pedagogical practices, collaborative research projects and institutional measures across the CG. In the next 3 years, ED WG will continue to hold and improve regular WG meetings as an essential mode of sharing good practices and jointly thinking through the EDI agenda in the Coimbra Group institutions in international and EU contexts.
The main tasks of the ED WG in the upcoming three years are the following:
to continue to serve as an EDI advisory body for the leaderships of our respective universities in the area of diversity, inclusion and intersectional gender equality;
to foster internal sharing of experiences and collaboration with other WGs as well as positively contribute to the cooperation across Alliances of participating EDWG universities;
to open up EDWG debates and initiatives to all CG universities and also the European University Alliances by sharing workshops, webinars and advocacy initiatives on urgent questions of antiracist and antisexist education, as well as collaborative work towards nondiscrimination in academia;
to embrace the challenge of facing and digging into the digital domain, looking at algorithmic biases in Artificial Intelligence in relations to questions of ethics and social justice;
to participate in the ERA Policy Agenda Action 5 sub-group 'Inclusive Gender Equality in the European Research Area' under the ERA Forum.
Priorities for 2023 – 2026
Moving beyond Gender-Based Violence in academia and in society.
Developing advocacy on issues related to Woman, Life, Freedom.
Collaborating with HER WG on colonial and problematic heritages.
Deepening and broadening the understanding of 'social safety' in the workplace.
Consulting EC documents and policies about EDI dimensions in academia, research and innovations.
Recent highlights:
Inclusive curriculum – Webinar, 12 October 2022, 11– 12.30 CET (Utrecht University).
Moving Beyond Gender-based violence in Academia – Participation in the international conference within the framework of the Czech Presidency of the Council of the EU, held in Prague on 24-25 November 2022 (Vera Sokolova).
Online meeting with invited speaker Jeanne Lenders – Policy Officer at the European Commission' DG Research & Innovation (RTD), Unit D4-Democracy & European Values – Gender Sector, on the outcomes of the report on "Approaches to Inclusive Gender Equality In Research And Innovation and future developments in this area" (17 February 2023, 10.00).
"Disability, Diversity, Inclusion" (webinar, 28 April 2023, Jagiellonian University).
Ongoing/forthcoming activities:
2023-2024
Gender-based Violence (GBV): work on the endorsement of the Prague 2022 Call for Action against GBV and identification of experiences and good practices vs. GBV in CG Universities.
Develop advocacy messages in response to governmental violence against Iran's revolution.
Intersectionality: How do we bridge the gap between the concept and its implementation? Analysis of the incorporation of diversity into pedagogical practices, collaborative research projects and institutional measures across CG [online ED WG meeting with invited speakers]. (September/October 2023)
Racism in academic institutions from an intersectional perspective: as a follow up of the CG Annual conference debate on "Racism at Universities" and problematic heritages in academia, ED WG will look closely into racism and anti-racist policies and practices from an intersectional perspective, especially in terms of intersections of racism and sexism. (February 2024)
2024-2025
On the question of data collection and use in relation to gender equality in academia we plan to organize two webinars with invited speakers + requested follow-up by CG universities, one in autumn 2024 and one in Spring 2025:
Webinar on Data collection and how it impacts on the archives of knowledge, inclusive gender equality and other kinds of equal opportunity and affirmative action practices.
Webinar on Data, the Reform of Research Assessment and the slow progress of women in academic careers.
Continuing cooperation with HER WG on colonial and problematic heritage, participation in promotion and outreach of our collaborative efforts.
2025-2026
Focus on the digital domain and social justice through organization of 2 webinars with invited speakers + requested follow-up by CG universities, one in autumn 2025 and one in Spring 2026:

Webinar on algorithmic bias in artificial intelligence.
Webinar on feminist digital justice.

Entering in collaboration with STEM WG on the topics of EDI in digitalization and artificial intelligence, participation in promotion and outreach of our collaborative efforts.
Contact person at the CG Office: Emmanuelle Gardan (gardan@coimbra-group.eu)