Publication of the book "Why Latin America Matters"
27 November 2021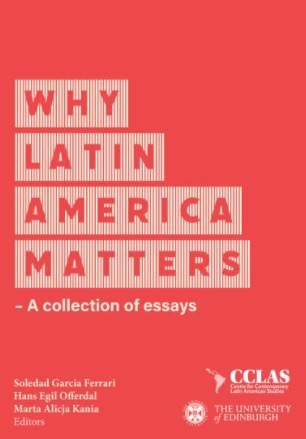 The Centre for Contemporary Latin American Studies (CCLAS) of the University of Edinburgh, together with the Coimbra Group Latin America Working Group and the Association of Universities Grupo Montevideo (AUGM), organized a launch event for the publication "Why Latin America Matters".
The Chair of the Coimbra Group Executive Board, Ludovic Thilly, delivered the opening remarks. Ana Lúcia Gazzola, Emeritus Professor at the Federal University of Minas Gerais, who authored the book's foreword, followed with an impactful speech. Álvaro Maglia, Executive Secretary of the Association of Universities of the Montevideo Group (AUGM), has also share his perspective on the question "Why Latin America matters". The virtual book launch also included presentations by several contributors of the book, from both the European and Latin American continents. 
This collection of essays aims to make the case for the importance of Latin America as a crucial region in global politics and development. The book is structured around six wide-ranging themes which are explored from different disciplinary perspectives, drawing particularly on transdisciplinary work: Culture and Identity; Environment and Sustainability; Governance and Democratisation; Health; Migration and Human Rights; and Urban Resilience.
Watch the replay of the event here.