LA WG book presented at the 9th Latin American and Caribbean Conference on Social Sciences
27 June 2022
During the 9th CLACSO conference in Mexico City, June 7-10, the jointly developed book Why Latin America Matters was presented and received critical acclaim by commentators and the audience. The book is an initiative from the Coimbra Group's working group on Latin America (LAWG) and has been the result of collaboration between the Coimbra Group, Association of Universities Montevideo Group, and the Centre for Contemporary Latin American Studies at the University of Edinburgh
Co-editors Soledad Garcia Ferrari (Chair of the LAWG) and Hans Egil Offerdal moderated the panel and introduced the book, while author Hamid Alberto Abud Russell (Heidelberg University), gave an outline of his chapter "Many producers, many protectors!" — Geographical Reflections on Resilient Intercultural Economies in Northwest Campeche Mexico", co-written by colleague Judith Keller.
In her comments, Emma Regina Morales García de Alba (ITESO, Universidad Jesuita de Guadalajara) underlined that "although the essays deal with distinct themes in different countries, the experiences presented create a dialogue between themselves". She specially valued the fact that the collection of essays does not exclusively focus on the failures, but rather puts forward a "collective construction of knowledge that allows for discussion, debate, differences and contrasts, while facilitating the construction of alternative visions."
Along the same argument, Hugo Fuentes (Tecnológico de Monterrey, ITESM-CEM) stressed that the book is "generating a dialogue between Latin America and Europe that is enriching". He pointed out that the book offers a "positive dialogue between equals that have much to share, and to learn from each other."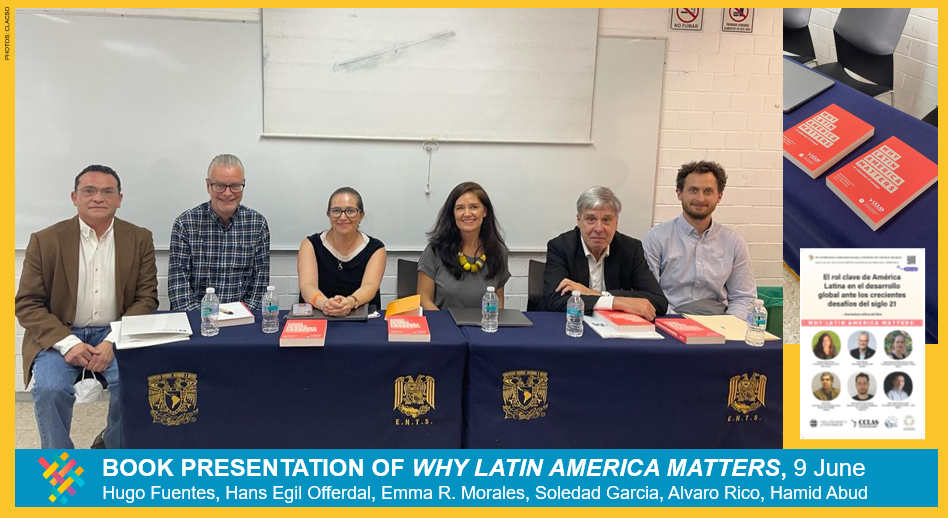 In his intervention, Alvaro Rico (Executive Secretary of La Asociación de Universidades Grupo Montevideo (AUGM)), emphasized the value of the book as a successful result of scholarly collaboration across networks. According to Rico it is imperative to maintain the academic conversation between Latin America and Europe and the book is an important contribution to such a conversation.
Overall, the book was received with great interest by the audience, who pointed out to the importance of continuing the work established by the book, through increasing the collaboration and reflection. It is clear that the book has established an emerging framework for exploring contributions from Latin America to the world. Many calls for translating the book into Spanish were made, especially among voices in the audience and other interested parties. Currently the feasibility of such an initiative is being evaluated and the LAWG invites all CG universities to come up with support for such a joint venture.
In addition to the book presentation, Soledad Garcia Ferrari (University of Edinburgh) moderated a panel on "Right to the city and urban conflicts", while Hans Egil Offerdal (University of Bergen) participated in a panel on "God and idol: Ecological crisis or socio-environmental crime?", together with Pedro Trigo, Mons. Raúl Vera López and Enrique Dussel. Moreover, both Soledad and Hans attended an engaging work meeting with members of the CLACSO 'Theology working group' held during the CLACSO conference, where relevant links between Latin America and European initiatives were discussed, particularly in relation to human rights. Soledad and Hans also engaged in active networking with representatives from different universities and institutions in Latin America participating in this important regional event.